In short, standard UTI test methods do not work well, and you really can't rely on them.
You may know this already if you have experienced what many others have – a negative UTI test result even though you feel like you have a UTI.
This is a tricky situation. The best way to find the right treatment for recurrent UTIs is to test for the cause, but the tests themselves are not accurate enough to help in many cases.
If you've found yourself in this situation once, twice or many times, it's time to learn why this could be happening, so you're prepared to ask for a different approach next time.
Article Quick Links
Action Steps:
Read this article so you know how to speak with your doctor about your negative test results
Read the next article about UTI test alternatives to learn how you can move past negative UTI test results, and find better answers
How Accurate Are UTI Test Methods?
There are two standard ways to conduct a UTI test:
A rapid dipstick strip test, which is done on the spot by your medical practitioner (or at home)
A urine culture, where your sample is sent to a lab and is tested over the course of 24-48 hours.
Despite being the global standards for UTI testing since the 1980s and 1950s respectively, both of these tests are extremely inaccurate.
Accuracy Of Standard UTI Tests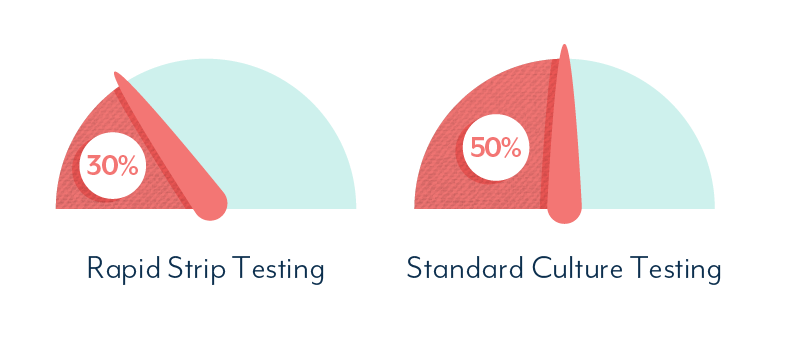 In reality, antibiotics are very often prescribed without any form of UTI test. Patients and doctors are very competent at recognizing the symptoms of a UTI, but there are issues with this approach.
Statistics show that 26-44% of females will experience a recurrence of their first UTI. In this 26-44% it is likely the initial treatment failed.
Evidence suggests that with each recurrence of UTI, another recurrence becomes more likely.
That means the more UTIs you have, the more likely you are to get another.
With every recurrence of UTI, there is an increased risk of an embedded, difficult-to-treat, antibiotic-resistant bladder infection. This is called a biofilm, and it's helpful to figure out whether this may be an issue for you, as different testing and treatment approaches may be necessary.
If your UTI treatment failed the first time, it is crucial to find out why as soon as possible, in order to break the cycle of recurrence before it escalates.
Why is it so difficult to break the cycle of recurrent UTIs?
Standard UTI test methods focus on free-floating pathogens (which is how UTIs start), rather than looking for evidence of an embedded infection caused by a biofilm.
These methods are also based on a number of assumptions that have since been proven wrong…
First, let's take a quick look at those urine test strips you can use at home or at the doctor's office. Then we'll explain some of the problems with urine culturing done at a lab.
Knowing the issues with both of these tests will arm you with the right questions to ask if you feel like your negative results are wrong.
Why You Can't Trust UTI Test Strips
UTI test strips are commonly used as an initial indicator for UTI. Studies have shown these test strips are unreliable, and cannot be used to rule out infection.
You've probably seen a UTI test strip if you've ever been to a doctor for a suspected UTI, but you can also buy them online or over the counter, to use at home. Home UTI test strips often contain only two of the indicators (the little colored boxes) listed below.