In short, standard UTI test methods do not work well, and you really can't rely on them.
You may know this already if you have experienced what many others have – a negative UTI test result even though you feel like you have a UTI.
This is a tricky situation. The best way to find the right treatment for recurrent UTIs is to test for the cause, but the tests themselves are not accurate enough to help in many cases.
If you've found yourself in this situation once, twice or many times, it's time to learn why this could be happening, so you're prepared to ask for a different approach next time.
Article Quick Links
Action Steps:
Read this article so you know how to speak with your doctor about your negative test results
Read the next article about UTI test alternatives to learn how you can move past negative UTI test results, and find better answers
How Accurate Are UTI Test Methods?
There are two standard ways to conduct a UTI test:
A rapid dipstick strip test, which is done on the spot by your medical practitioner (or at home)
A urine culture, where your sample is sent to a lab and is tested over the course of 24-48 hours.
Despite being the global standards for UTI testing since the 1980s and 1950s respectively, both of these tests are extremely inaccurate.
Accuracy Of Standard UTI Tests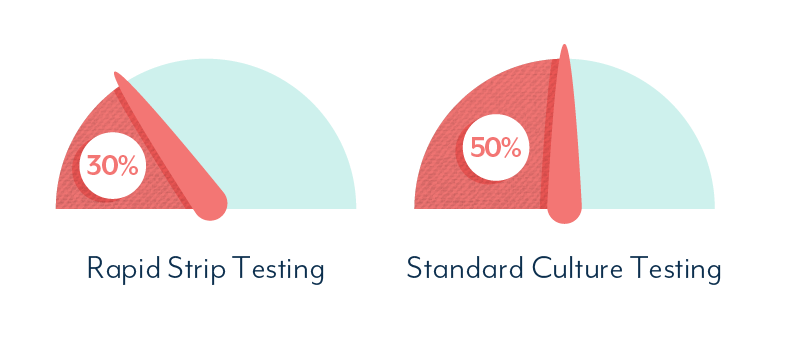 In reality, antibiotics are very often prescribed without any form of UTI test. Patients and doctors are very competent at recognizing the symptoms of a UTI, but there are issues with this approach.
Statistics show that 30-44% of females will experience a recurrence of their first UTI. In this 30-44% it is likely the initial treatment failed.
Evidence suggests that with each recurrence of UTI, another recurrence becomes more likely.
That means the more UTIs you have, the more likely you are to get another.
With every recurrence of UTI, there is an increased risk of an embedded, difficult-to-treat, antibiotic-resistant bladder infection. This is called a biofilm, and it's helpful to figure out whether this may be an issue for you, as different testing and treatment approaches may be necessary.
If your UTI treatment failed the first time, it is crucial to find out why as soon as possible, in order to break the cycle of recurrence before it escalates.
Why is it so difficult to break the cycle of recurrent UTIs?
Standard UTI test methods focus on free-floating pathogens (which is how UTIs start), rather than looking for evidence of an embedded infection caused by a biofilm.
These methods are also based on a number of assumptions that have since been proven wrong…
First, let's take a quick look at those urine test strips you can use at home or at the doctor's office. Then we'll explain some of the problems with urine culturing done at a lab.
Knowing the issues with both of these tests will arm you with the right questions to ask if you feel like your negative results are wrong.
Why You Can't Trust UTI Test Strips
UTI test strips are commonly used as an initial indicator for UTI. Studies have shown these test strips are unreliable, and cannot be used to rule out infection.
You've probably seen a UTI test strip if you've ever been to a doctor for a suspected UTI, but you can also buy them online or over the counter, to use at home. Home UTI test strips often contain only two of the indicators (the little colored boxes) listed below.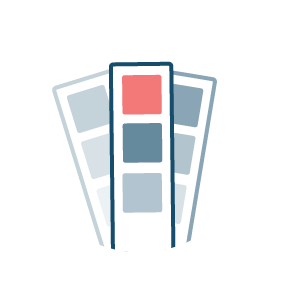 What UTI Strip Test Indicators Mean
Indicator
Why It's Used
pH Level
If your urine pH is outside the normal range of 5-7, there could be an issue.
Protein
Sugar
Ketone
Bilirubin
Urobilinogen
We would generally go into detail about each of these, but as test strips are so unreliable, we don't want to give them too much weight in this context.

A positive test strip result for any of these suggests there may be an issue.
Nitrite
Some bacteria that cause UTIs make an enzyme that changes urinary nitrates into nitrites. So if the strip is positive for nitrites, the conclusion is that you have a bacterial UTI.
Red blood cells (erythrocytes)
Blood can appear in urine due to strenuous exercise, but generally, blood in the urine is taken to be a sign of infection, inflammation, disease, or injury to the urinary tract.
White blood cells (leukocytes esterase)
A positive strip result for white blood cells in your urine indicates an infection in your urinary tract, or possibly, kidney disease.
The aim of UTI test strips is to allow you to perform a quick urine test and find out within minutes whether you have an infection, and whether it is bacterial.
The truth is, studies show that UTI test strips may only be reliable about 30% of the time.
| | |
| --- | --- |
| | "My urine was visibly cloudy and it burned when I went to pee. My doctor used a UTI test strip in my urine sample and said everything on the test strip was normal. I was told I didn't have an infection even though I've had UTIs before and I know exactly what they feel like." |
Some studies have bluntly concluded that UTI test strips should be abandoned as a tool for the diagnosis of UTIs in patients with lower urinary tract symptoms.
Unfortunately, official guidelines allow for the use of test strips in diagnosing UTIs, so their use is extremely widespread.
Given the low accuracy of UTI test strips, if the results are negative but you have UTI symptoms, it would generally be recommended that you have a urine culture test done in a lab.
Which brings us to the next problem…
5 Reasons Your Negative UTI Test Could Be Wrong
First, let's just put it out there that if you received negative results for a urine culture, but you still have symptoms, it is very possible you have a UTI.
This happens very frequently, and we can help explain why.
The process behind urine culture testing is easy enough to understand. First, you provide a mid-stream urine (MSU) sample – also known as a clean-catch sample. Your urine sample is sent to a lab, and (in its simplest form) this is what happens:

Step One
Your urine is placed on a plate with agar - a substance that encourages bacteria and fungi to grow.

Step Two
The plate is tightly sealed and placed in an incubator at body temperature.


Step Three
Any bacteria or fungi that are present are allowed to grow into small, circular colonies over the next 24-48 hours.


Step Four
If there is little or no growth, the test is considered negative.

Step Five
If there is growth, the lab technician will take samples from each significant type of bacterial colony, then conduct a gram stain test, which helps to differentiate between types of bacteria.



Step Six
Further testing is performed to identify specific types of bacteria present, then a susceptibility test is done to find out which antibiotic will be the most effective.



Step Seven
Results are forwarded to your doctor, or directly to you, showing which organism was found, in what concentration, and how it should be treated.

Step Eight
Your doctor prescribes you the recommended antibiotic or antifungal to treat the infection.
This might sound logical, but there are some very important flaws which mean…
Standard urine culture testing is inaccurate in up to 50% of cases. The test we rely on to shed light on UTIs leaves 1 in 2 females in the dark.
Why is the global gold standard UTI test so inaccurate? There are 5 main reasons which you can read all about below.
#1. It Turns Out Urine Is Not Sterile
It has become common knowledge that urine is sterile – it's even become ingrained in 'first aid' advice, like "urinating on a wound is better than using non-sterile water." But it turns out it's not.
The bladder has its own unique microbiome, and an ideal balance of microbes that your body does its best to maintain.
Studies have found more than 450 different bacteria in healthy bladders. And in patients with UTIs, they found about 600. That's a lot of different bacteria that were assumed not to exist in the bladder!
Because UTI test techniques have always assumed urine is sterile, they have always been flawed.
But it doesn't end there. There are a number of other contributors to the inaccuracy of urine tests, and we'll delve into some of these below.
#2. The UTI Test Was Never Meant To Be Used For Everyday UTIs
In the 1950s a scientist named Kass conducted two small studies on two groups of females with acute kidney infections (one group of pregnant females, the other non-pregnant females).
Kass discovered that a certain concentration of bacteria in a cultured urine sample was enough to indicate a kidney infection with 80% accuracy. This is called the Kass threshold, and you may have seen reference to it on your UTI test results.
| | |
| --- | --- |
| | The Kass threshold means a concentration of 100,000 (105) colony forming units (CFU) of bacteria per milliliter of cultured urine must be present to indicate an infection. It is a very specific threshold without much room for interpretation. |
The key point here is that the Kass test was already only 80% accurate for acute kidney infections. It was never validated for use in lower urinary tract infections, like bladder or urethral infections.
Yet, this test was embraced by the medical community and has been the global standard UTI test for more than 60 years.
The Kass threshold has since been found to be far too high to detect many lower urinary tract infections. That is, much lower counts of bacteria in the urine can indicate a UTI.
"If a urine dipstick or lab test comes back negative but the patient is clearly describing symptoms of a UTI, doctors must listen to them. Urine tests are far from perfect and it is vital to interpret them in the context of the patient's symptoms."

Dr Jon Rees, Chair, Primary Care Urology Society, UK
Because modern urine culture tests are based on the Kass test, any bacteria count that is below the Kass threshold will not be considered an infection, and antibiotic susceptibility testing will not be done.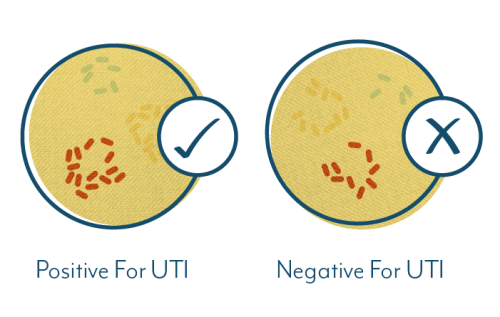 #3. UTIs Can Be Caused By Multiple Pathogens (The Bad Guys)
Another issue with the standard mid-stream urine culture, or Kass test, is that it looks for a single pathogen, and does not take into account the possibility of multiple infection-causing pathogens.
Instead, if multiple pathogens are found, it is assumed that the urine sample was contaminated.
This is a problem because some chronic infections have been found to be caused by multiple pathogens co-existing in the bladder. And each pathogen may require a different treatment.
| | |
| --- | --- |
| | "Our biological studies reveal mixed microbial infections hiding inside the cells of the bladder. Located there, the microbes seem quiescent but cause low-grade inflammation that may cause various bladder symptoms...Cloistered, inside cells bacteria escape antibiotic and immune attack." |
Added to this is the fact that standard urine culture methods are just not able to identify all UTI-causing pathogens. Alternative testing methods, like PCR and NGS have been able to identify uncommon pathogens that do not grow in a urine culture.
#4. White Blood Cells In Urine Are Often Ignored
We mentioned white blood cells (leukocytes) in urine earlier, as one of the indicators on a UTI test strip. As much as we cringe at the word, white blood cells are commonly referred to as pus.
White blood cells are also looked for in a standard urine culture at a lab. If either test method detects white blood cells in your urine, it is likely you have a urinary tract infection.
Unfortunately, the presence of white blood cells in a urine culture is measured against a threshold that was established even earlier than the Kass threshold.
You can think of the white blood cell measurement as a backup to the Kass test. Ideally, you would get UTI test results that show a significant amount of bacteria present, PLUS a level of white blood cells that confirms your body is fighting an infection.
Lots of bacteria paired with pus – an immune system response – builds a solid case for a UTI.
There are three major issues with the measurement of white blood cells in a urine sample:
Much like the Kass threshold, research suggests the threshold for white blood cells is also too high, and that lower levels of white blood cells can indicate a urinary tract infection.
White blood cells die off quickly outside the body, and may have already significantly reduced by the time a test takes place.
If your urine contains white blood cells but fails the Kass test, the raised white blood cell count may be considered an anomaly and dismissed as unimportant.
This second point is commonly referred to as 'sterile pyuria'.
| | |
| --- | --- |
| | Pyuria means pus in the urine, and sterile means the absence of bacteria. So 'sterile pyuria' basically means pus was found in the urine, but infection-causing bacteria was not. |
Many researchers believe sterile pyuria is often incorrectly reported due to the Kass threshold being too high, and that lower levels of bacteria may be present and significant.
| | |
| --- | --- |
| | "I had ongoing symptoms. Sometimes acute, sometimes minor, but always there. I bought UTI test strips to monitor my urine. Every single day it showed I had raised white blood cells, but when I sent my urine to a lab, it kept coming back negative for an infection. I had no idea what was going on." |
#5. Epithelial Cells As An Immune Response Are Overlooked
Epithelial cells are the delicate tissue that can be found lining most of the urinary tract, including the bladder. When you have a UTI, your body can shed these cells as part of its defence against pathogens that form biofilms or intracellular bacterial communities (IBCs).
The body is pretty amazing really. Pathogens invade and start to form communities on and inside the bladder lining cells, and your body starts sacrificing its own cells, in an attempt to foil the plan.
Historically, if these epithelial cells were found in urine that tested negative for bacteria, the cells were considered to be sample contamination. It is now clear that the presence of these cells can actually be an indication of an underlying, embedded infection.
Why Better UTI Test Methods Are Essential For Recurrent UTI Sufferers
When you take a look at the five problems with testing we covered above, it's easy to understand why up to 50% of standard urine cultures fail to detect an infection.
Standard UTI test methods frequently return negative results despite ongoing UTI symptoms. They do not work as well as they should.
For females with recurrent UTIs, these issues with the standard UTI test can mean that despite having obvious symptoms, they continually receive negative UTI test results and no clear guidance on treatment.
| | |
| --- | --- |
| | "I'd had a UTI every month for two years by this stage. Each time, my doctor sent a urine sample to the lab. And every time the results showed a raised white blood cell count and low amounts of bacteria, but not enough to be considered a UTI. No UTI meant no treatment." |
We cannot reiterate enough… No evidence of infection is not the same thing as evidence of no infection.
Or, to put it in a less mind-bending phrase – just because your UTI test comes back negative, it does not mean you do not have an infection.
| | |
| --- | --- |
| | "There's an old expression, if it looks like a duck, walks like a duck, and quacks like a duck. It's gotta be a duck. And so to have somebody who has pain, urgency, frequency and burning, and yet they're told they don't have an infection because a urine culture was negative, who do you believe? Are you treating a lab result? Or are you treating a person?" |
You may have been through this yourself. Or perhaps you've never had a test done, or have never received your results.
Each of these scenarios leaves you in the same position; a position of frustration and at times, desperation.
We want to help.
There ARE other testing options available, ranging from a modified urine culture test, right up to highly detailed genetic sequencing methods, like those offered by Aperiomics and MicroGenDX. We've covered these in the next article.
Only you can decide how important it is to pursue more effective testing and treatment. We understand this is an individual journey for each person.
When To Look For UTI Test Alternatives
Ask yourself a few questions first:
Have you already submitted multiple urine samples for culturing in a lab?
If so, were the results negative despite your symptoms? Did you actually receive your results?
If your results were positive, do you feel the treatment was effective, or did you experience UTI symptoms again shortly after?
Do you feel your recurrent or chronic symptoms are something you are happy to manage, or are you interested in investigating a possible long term solution?
Have you gathered all your previous test results and gone through them with one practitioner to discuss any patterns or trends?
These are all questions we can't answer for you, but if you feel you have exhausted your current options and you are still experiencing symptoms that impact your life, it could be time to learn more about how to move forward.
If you are uncertain how to answer any of these questions, you are likely to find more clarity by reading the next article on recurrent UTI testing alternatives.
Why Your Doctor May Not Be Able To Help With Your UTIs
Each region has a set or sets of guidelines on how to diagnose, manage and treat illness.
These guidelines are based on the evidence available at the time, and are intended to guide medical practitioners through a best practice approach with each of their patients.
In the USA, guidelines are produced by the government, professional associations and private companies. These are collected by a national database and practitioners can ultimately choose which set of guidelines they prefer to use.
Although guidelines are reviewed, these reviews tend to lag behind new research and new evidence.
Most regions do not offer practitioner guidelines for recurrent UTIs at all.
At least one set of guidelines for recurrent UTIs has been published by the National Institute of Health in the USA. It provides basic information about diagnosis and concludes with:
"Due to a lack of comparative evidence, the decision to begin therapy, choice of therapy and duration should be based on patient preference, allergies, local resistance patterns, prior susceptibility, cost and side effects."
It doesn't exactly fill you with confidence about finding the right treatment.
Because of the lack of guidelines for recurrent UTIs, females are often treated under the same guidelines used for a single UTI. The same guidelines that have already failed them repeatedly.
And because doctors rely on guidelines to keep them informed and to guide them on how to help you, when the guidelines do not exist or are incomplete, your doctor is put in a tricky position.
| | |
| --- | --- |
| | "I was so frustrated and upset. My antibiotics weren't working. The tests showed nothing. My doctor even said to me, "I'm sorry. We really don't have the research to be able to help more. You seem to know almost as much as I do about it." I was terrified that meant I was going to have UTIs for the rest of my life." |
In the case of alternative UTI test methods and treatment approaches, research is relatively recent, and the evidence for using these methods may be considered insufficient for them to be included in any guidelines at this stage.
As they are not included in any guidelines, it is likely your doctor is either unaware of, or does not have a way to confidently offer you these options. Let alone interpret the results and prescribe an appropriate treatment.
You may need to gather your own research, and ask your doctor to discuss it with you.
In reality, medical practitioners interpret the guidelines according to their own experience, and develop an individual approach based on the resources available to them.
This means you may visit a number of doctors about urinary tract infections and find each of them takes a different approach.
If you feel your doctor is unable to help you with recurrent UTIs or does not take your situation seriously, you should feel comfortable finding another doctor.
There are practitioners who specialize in diagnosing and treating recurrent and chronic UTI, and we've listed a few to help get you started on your search.
Share your questions and comments below, or get in touch with our team.