Accurate identification of organisms, along with antibiotic susceptibility testing is a crucial part of UTI testing, diagnosis and treatment. It may be even more significant for sufferers of recurrent UTI that have a history of frequent antibiotic use that has not eradicated the infection.
Pathnostics, a diagnostics company based in California, has developed a patented approach to identification and antibiotic sensitivity testing called Pooled Antibiotic Susceptibility Testing (P-AST). This approach may help recurrent UTI sufferers with more accurate antibiotic recommendations. Their unique combination of testing tools is referred to as Guidance® UTI.
Jump To Section:
Antibiotic Susceptibility Testing FAQ
What is antibiotic susceptibility?
Simply put, antibiotic susceptibility is a measure of how sensitive a particular type of bacterium is to a particular antibiotic, or to a range of different antibiotics. You can think of it as a question: If the antibiotic is applied to the bacteria, will it have any effect?

What is antibiotic susceptibility testing?
Antibiotic susceptibility testing assesses whether a particular antibiotic is likely to treat an infection caused by a particular bacterium. A test is conducted in vitro (outside the body) to physically apply specific antibiotics to bacteria and then measure the impact of the antibiotic on those bacteria. An antibiotic susceptibility test can help clinicians choose which antibiotic to recommend to their patients.

Is antibiotic susceptibility the same as antibiotic sensitivity?
Yes, antibiotic susceptibility testing and antibiotic sensitivity testing refer to the same process.

Is susceptibility testing also conducted for fungi?
It can be. When fungi are found, antimicrobial sensitivity testing may also be done to determine which antifungal is most likely to treat a fungal infection.

How is antibiotic susceptibility measured?
Antimicrobial susceptibility test results generally report the minimal inhibitory concentration (MIC) in micrograms per milliliter. MIC refers to the lowest concentration of the antibiotic that inhibits the growth of the bacteria. Results may also include an interpretation of the level of susceptibility. The levels classifies the bacterium's susceptibility to each tested antibiotic as one of the following: susceptible (S), intermediate (I), resistant (R), sensitive-dose dependent (SD), or no interpretation (NI).

What is antibiotic resistance?
Antibiotic resistance refers to the ability of bacteria to survive exposure to antibiotics whose purpose is to kill or stop the growth of those bacteria. Antibiotic resistance occurs in nature but it can also occur as a result of exposure to antibiotics. When this happens, the bacteria develop antibiotic resistance genes that enable them to resist the effect of the antibiotic and continue to multiply.

What are antibiotic resistance genes?
In the same way that our own human genes dictate certain characteristics, bacteria can carry genes that dictate whether they have the ability to resist the impact of certain antibiotic mechanisms. Once a bacterium has such a gene, it can actually transfer this genetic information to other bacteria, providing them with the same ability to resist the antibiotic mechanism.

It's important to note that the standard procedure for antibiotic susceptibility testing is to isolate each type of bacterium identified. This does not account for the possible interactions between different bacteria, and their ability to protect the intermingled bacterial community via the transfer of antibiotic genes or other protective mechanisms. This is where Pathnostics approaches things differently.
UTI And Antibiotic Susceptibility Testing By Pathnostics
Pathnostics utilizes PCR testing (Polymerase Chain Reaction), a technology adopted by many companies that offer UTI testing.
This type of UTI testing requires a voided urine sample (pee in a sterile cup – the usual) or a sample collected via a catheter inserted directly into the bladder.
PCR testing is relatively fast. It's possible to get your results within 24 hours of the lab receiving your urine sample.
In a urine test performed by PCR, a panel of organisms is selected, either by your doctor, or as a standard panel offered by the testing provider. When the test is conducted, it is only able to identify the organisms included on the panel.
For this reason, it's important to consider which organisms the panel includes and how many. In the case of Pathnostics Guidance® UTI, the panel contains up to 45 pre-selected organisms.
What Does Pathnostics Test For?
As mentioned above, Guidance® UTI can test for up to 45 pre-selected organisms. The total number depends on which tests you or your doctor select.
Bacterial and Yeast Organisms
Acinetobacter baumannii
Actinotignum schaalii
Aerococcus urinae
Alloscardovia omnicolens
Candida albicans
Candida auris
Candida glabrata
Candida parapsilosis
Citrobacter freundii
Citrobacter koseri
Corynebacterium riegelii
Enterococcus faecalis
Enterococcus faecium
Escherichia coli
Klebsiella oxytoca
Bacterial Groups
Coagulase-neg. staphylococci*
Viridans group streptococci†
Enterobacter group‡
VIRAL PARTICLES:
HHV-5 (CMV)
HHV-6
HHV-1, HHV-2 (HSV 1/2)
Klebsiella pneumoniae
Morganella morganii
Mycobacterium tuberculosis
Mycoplasma hominis
Pantoea agglomerans
Proteus mirabilis
Providencia stuartii
Pseudomonas aeruginosa
Serratia marcescens
Staphylococcus aureus
Streptococcus agalactiae
Ureaplasma urealyticum
Viral Particles
The organisms for the panel were selected based on historic culture data, literature and Pathnostics' own findings. As new data become available, the panel is reviewed and updated.
Can Viruses and Sexually Transmitted Infections Cause UTI Symptoms?
According to Pathnostics, viruses are identified in around 20% of the UTI samples they receive. At this stage, the clinical significance of these viruses is not completely understood. It may be the case that a virus is a contributing or causative factor for UTI symptoms in some people.
Some Sexually Transmitted Infections are known to cause UTI-like symptoms, so it's often a good idea to rule this possibility out. Pathnostics offers add-on tests for this purpose:
Chlamydia trachomatis
Neisseria gonorrhoeae
Trichomonas vaginalis
The Limitations Of PCR Testing
Most companies that use PCR technology set a minimum threshold for detection of pathogens, and will not report on organisms detected at levels below that. This same issue is found in the threshold set in standard urine cultures.
Typical PCR thresholds reported on are:
< 10,000 cells/mL
10,000-49,999 cells/mL
50,000-99,999 cells/mL
≥100,000 cells/mL
Fortunately, Pathnostics reports on any pathogens detected, right down to the minimum detection range, which can be as low as 500 cells/mL.
It's also important to understand a few other points about PCR testing:
PCR testing only tests for the organisms included in the pre-selected panel.
If the organism causing your infection is not listed on the PCR panel, the test will not be able to inform you whether the organism was present or not.
Because PCR testing looks for specific organisms only, it is unable to provide a picture of how these microorganisms are represented within the total urinary microbiome – it can't see what it isn't looking for.
This third point is somewhat negated by the way Pathnostics approaches antibiotic susceptibility testing. Read more on that below.
Can Pathnostics UTI And Antibiotic Susceptibility Testing Help You?
As with many aspects of health, this is a question that may be best to discuss with your doctor. Below, we've shared some insights into why different patient groups have opted to use Pathnostics.
Pathnostics Testing For Recurrent UTI Sufferers
Why do we share information about testing options on Live UTI Free? One of the most common questions we receive goes something like this…
"I tested positive for a UTI, then got treatment but my symptoms didn't go away. Now my urine culture is negative and my doctor says I don't have an infection. What can I do? I still feel like I have a UTI."
These questions highlight something that science has now proven many times over: the standard UTI test is inaccurate in as many as 50% of cases.
If the question above, or any of the experiences below are familiar to you, and you want to take another shot at finding answers, Pathnostics may be able to help:
Multiple rounds of antibiotics, with UTI symptoms always returning
Negative urine test results despite symptoms of a UTI
UTIs as frequently as every month, regardless of home remedies or medication
An escalation of symptoms over time, and a fear that there is no solution
Constant pain in the urinary tract, with little or no relief
To find a clinician who will be happy to order a Pathnostic Guidance® UTI test, and work with you on the results, you can get in touch directly with the Pathnostics team.
Alternatively, you can complete the form below, and Pathnostics will email you directly with printable resources to take to your doctor. Read on to learn more about how Pathnostics tests compare to standard culture.
"Pathnostics listened to my story and went above and beyond to find me a physician who would help me. The Guidance test found 4 pathogenic bacteria that over 40 standard urine cultures had failed to find. This allowed my doctor to select the right cocktail of antibiotics that brought me from 10/10 pain to 0-2 pain. I have my life back because of Pathnostics; I can work, I can ride my horse, I can workout and I can eat most foods again."


Dr. G.P. Poitras, CD, BSc, DDS
Pathnostics Testing For Interstitial Cystitis (IC)
Pathnostics shared that physicians who order Guidance® UTI for patients diagnosed with Interstitial Cystitis, receive positive results in 66% of cases. This means 66% of the IC patients who submit urine samples are found to have an infection that may be at the root of their symptoms. You can learn more about how interstitial cystitis is diagnosed in our expert video series.
With the identification of causative pathogens comes the possibility of UTI treatment options. This is a step in the right direction for anyone diagnosed with IC.
To find a clinician who will be happy to order a Pathnostic Guidance® UTI test, and work with you on the results, you can get in touch directly with the Pathnostics team.
| | |
| --- | --- |
| | "We see patients with vague irritative urinary symptoms where their work up has been negative by standard testing. I suspect the infection has been there all the time but just not detected. We also see that people previously diagnosed with IC are now finding infection with these tests. I think in a lot of cases, IC is a misdiagnosis due to lack of adequate testing. After all, it's a diagnosis of exclusion, but we now have more accurate tests that may show an infection cannot be ruled out." |
Testing For Clinicians
An unsuccessfully treated UTI is frustrating for sufferers, but it's also frustrating for clinicians who want to help.
We often hear from clinicians seeking answers for patients that:
Have taken multiple rounds of antibiotics with little or no improvement, and have experienced other health issues due to overuse of antibiotics
Receive test results that identify one or more pathogens and antibiotic sensitivity, yet the recommended treatment is ineffective
Receive negative urine culture results despite obvious symptoms of a urinary tract infection
Have urinary tract infections caused by antibiotic resistant bacteria
If you're a practitioner with a patient who has not responded to previous approaches, the testing options Pathnostics offers may help guide future treatment.
| | |
| --- | --- |
| | "Plenty of studies show that urine culture is not an adequate test. It's an archaic test. One of the biggest benefits from the Pathnostics Guidance test is it can identify bacteria within 24 hours, meaning we won't have the abuse of antibiotics we've had in the past. I have patients that have been treated over and over and just haven't been able to identify the true culprit. In some cases we are successful treating them with empiric antibiotic therapy. Without a doubt, I've had more success in treatment with Guidance." |
If you're a clinician and would like to learn more about Guidance® UTI, get in touch directly with the Pathnostics team.
Standard Urine Culture vs. Pathnostics Testing
We talk about the inadequacies of the standard urine culture a lot on Live UTI Free. It's one of the reasons we present information about UTI testing alternatives.
At the heart of it, the standard urine culture is incredibly inaccurate for a test that is so heavily relied on and considered the gold standard.
And this isn't just our opinion. Studies show that standard urine culturing may miss more than 50% of infections, leaving many people with false negative results.
If you experience UTI symptoms but have received negative culture results, now could be the time to read up on this. We've covered UTI testing options in great detail here.

How Does Pathnostics Guidance UTI Compare To Standard Urine Culture?
Pathnostics has conducted their own internal studies to compare the accuracy of Guidance® UTI with that of standard urine culture.
Their overall results demonstrated vast differences in accuracy, with Guidance® UTI shown as far superior in terms of diagnostic ability and the number of organisms detected:

To understand why Guidance® UTI and other genetic sequencing technologies may be superior to the standard culture, we need to look at the limitations of culture:
The standard urine culture was developed in the 1950s, but was never intended to be used in the diagnosis of lower urinary tract infection. It has not been updated since.
Standard culture is typically conducted over no more than 24-48 hours. This is insufficient as many bacteria take up to 5 days to grow, and some fungi more than 20 days.
Some bacteria, such as anaerobes (bacteria that will only grow in an oxygen free environment) will not grow at all unless an anaerobic culture is requested.
Results are often biased towards easy to grow microorganisms, while others are completely missed.
Uncommon microorganisms are often considered contamination rather than potential causes of infection.
Bacteria that have been living in a biofilm, are less likely to grow in a culture than free-floating bacteria (see more on chronic bladder infection).
Antibiotic susceptibility testing conducted via the standard method looks at isolated bacterial strains, rather than at the bacterial community as a whole, and therefore ignores the possibility of shared antibiotic resistance. This is where Pathnostics' Pooled Antibiotic Susceptibility Testing may provide an advantage. See below just how frequently multiple organisms are found.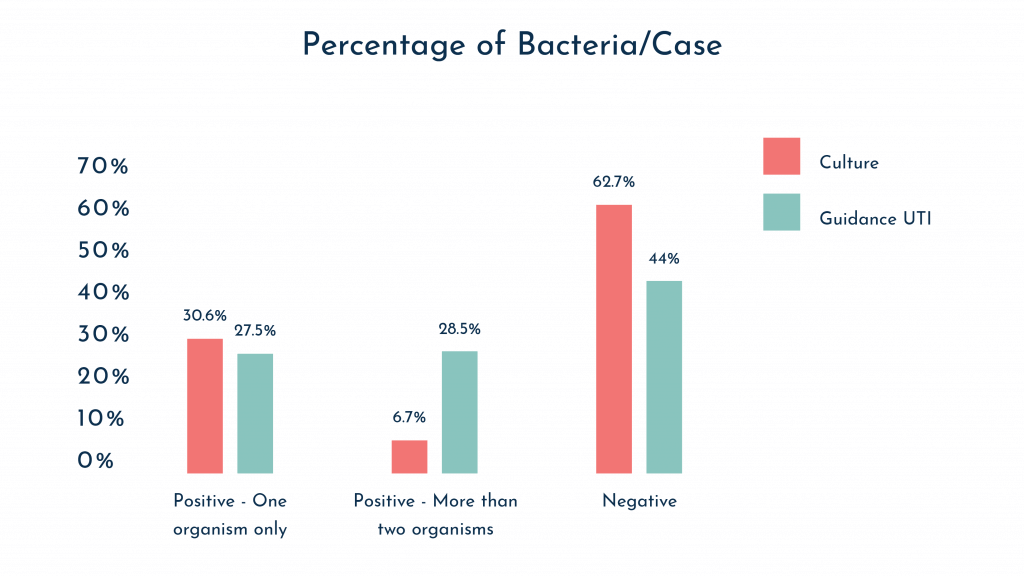 "After 16 days of UTI symptoms and negative culture results, I thought I'd do an experiment. I collected first morning cultures on four consecutive mornings. My day 1 urine sample grew enterococcus faecalis, my day 2 and 3 results said 'no significant growth', and my day 4 results said, 'more than 2 organisms, suspect contamination and re-do test.' It was a vicious circle that only proved how unreliable standard urine culture testing method was."


Dr. G.P. Poitras, CD, BSc, DDS
Antibiotic Susceptibility Testing That Treats The Bacterial Community As A Whole
If you read our antibiotic susceptibility testing FAQs at the start of this article, you'll already have an understanding of how this works in theory.
The question we're asking here is, is the antibiotic sensitivity of a bacterial species the same when it's on its own as when it is part of a bacterial community.
The direct answer is no.
It has been shown that bacteria work together in many ways. One of these ways is to share antibiotic resistance characteristics with each other, strengthening the level of resistance of the community as a whole.
Take a look at this graph provided by Pathnostics, from their own research: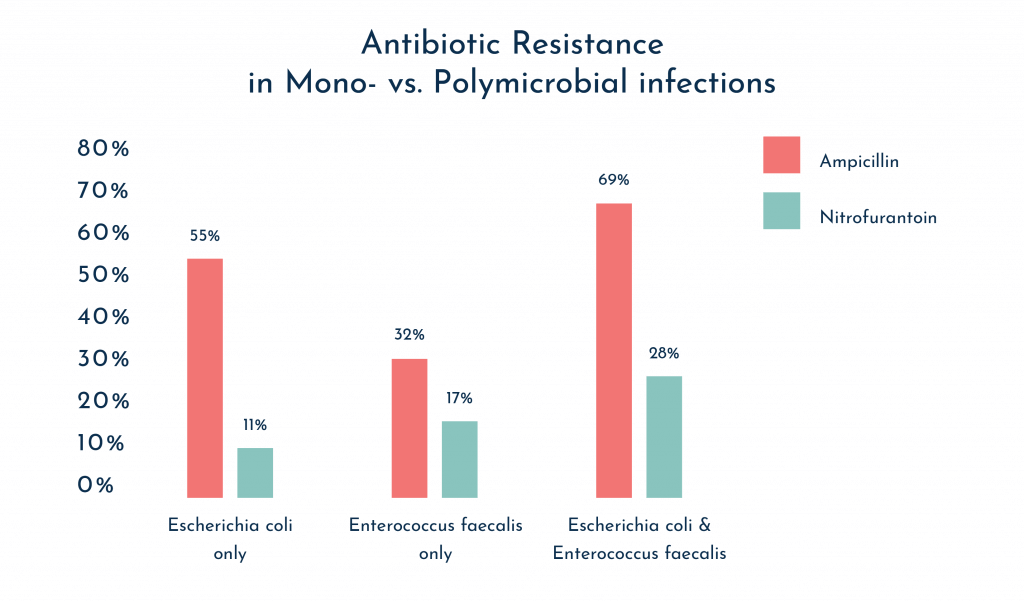 The green indicates the level of resistance to Nitrofurantoin while the pink indicates resistance to Ampicillin.
You can see in the graph that E. coli and E. faecalis on their own have lower resistance to both Ampicillin and Nitrofurantoin, than they do when they are found together.
| | |
| --- | --- |
| | "We started testing what would happen if we assessed the antibiotic susceptibility of the whole urine sample. We know that when you take more than one organism and you put them together in the same soup, they tend to work together. So what does that mean for antibiotic resistance? Do they share their characteristics, so you then need a different concentration of antibiotics? Does the antibiotic selection need to change entirely? Our research has shown that yes, the antibiotic recommendations do change, at times significantly. And these new recommendations make a difference. For example, in a trial we ran with 270 doctors that used our recommendations, they saw about a 30% reduction in emergency room visits and hospitalizations associated with UTIs." |
Can A UTI Be Caused By More Than One Type Of Bacteria?
When more than one causative bacterium is found in a urine sample, it is referred to as a polymicrobial infection, so we'll use that term here.
Research results differ when it comes to what percentage of UTIs are caused by polymicrobial infection.
One of the issues with any research based on urine culture is that the standard culture is just not able to pick up many organisms. And in a clinical environment, when multiple organisms ARE detected by culture, they are often dismissed as sample contamination.
Pathnostics has conducted their own research into this, with an analysis of over 2000 urine samples. They found that polymicrobial infection occurred in up to 68%. And 27% had at least four organisms. See their results below.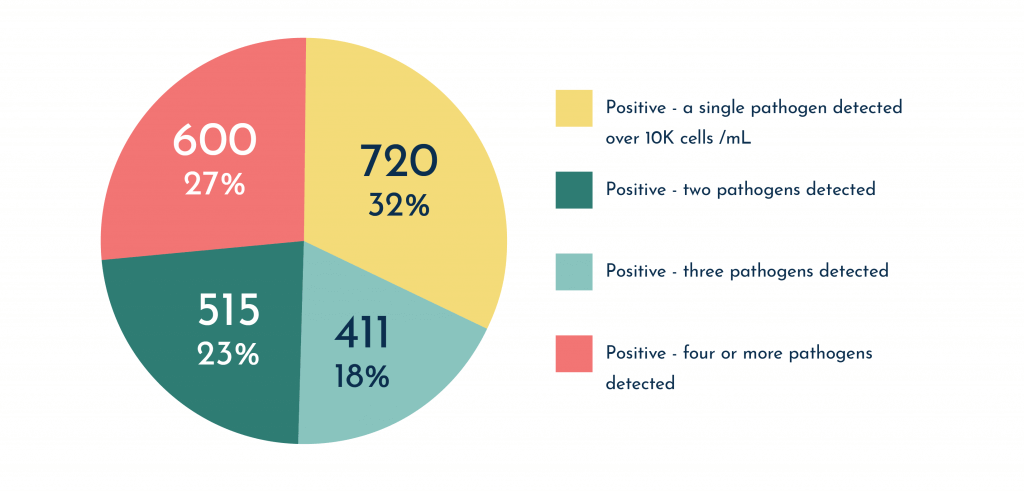 This kind of research makes you wonder about the accuracy of all those urine culture results you've received that list just one or two bacteria.
Why Treating The Bacterial Community As A Whole Is Important For UTI
Bacterial communities thrive in ways that a single bacterial species on its own cannot. Polymicrobial infections create an environment in which each organism can impact each other organism's:
Proliferation rate
Virulence potential
Overall survival in the presence of antibiotics
This means that interactions between organisms affect antibiotic tolerance and one bacterial strain can protect the entire population of bacteria.
If antibiotic recommendations ignore bacterial interactions, the UTI antibiotic treatment may be mis-targeted and have a lower chance of success.
| | |
| --- | --- |
| | "I've been using Guidance for close to two years. The main thing that differentiates their test is the way they approach antibiotic sensitivity. Others will identify the bacteria and provide suggestions on what antibiotics should work, based on national sensitivity tables rather than direct testing of the patient's infection. Pooled sensitivity is very useful given we now know there is a naturally occurring bacterial community in the bladder similar to what we see in the GI tract. We don't yet understand how these communities work together, nor how communal antibiotic resistance may enhance the ability of one bacterial strain to resist. The pooled sensitivity looks at the milieu of the community and how antibiotics impact it as a whole. It's a more accurate method to treat the infections which in many cases involve more than one organism." |
More On Pathnostics' Antibiotic Susceptibility Testing For Polymicrobial Infections
Pathnostics' antibiotic susceptibility testing is culture-based, as is traditional susceptibility testing.
The main difference is this: standard culture tests a single bacterial colony against a range of antibiotics to assess sensitivity, while Pathnostics tests the entire population of organisms against each antibiotic.
They do this by growing all the identified organisms together, rather than separating them. This means that regardless of the number of infection-causing pathogens, antibiotic recommendations will be based on the sensitivity of all of them, together.
Antibiotic Sensitivity Testing In Single Microbe vs. Polymicrobial Infection
First, all the organisms are grown together in each well of a 96-well plate.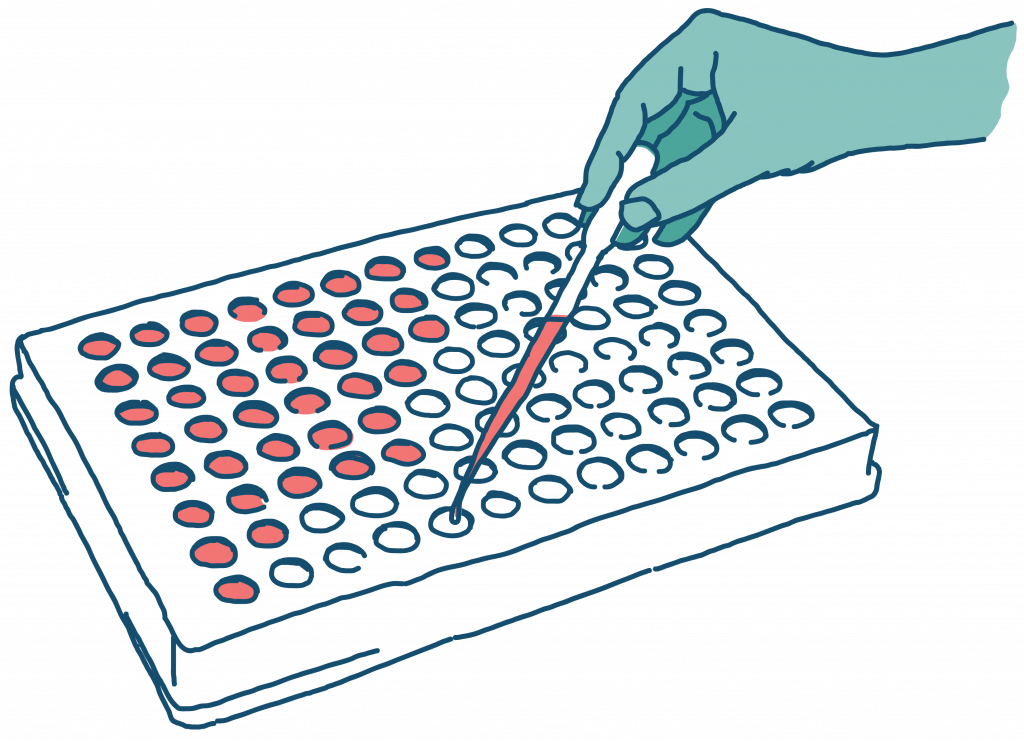 Then, a single antibiotic is incubated in each well, and any growth is measured.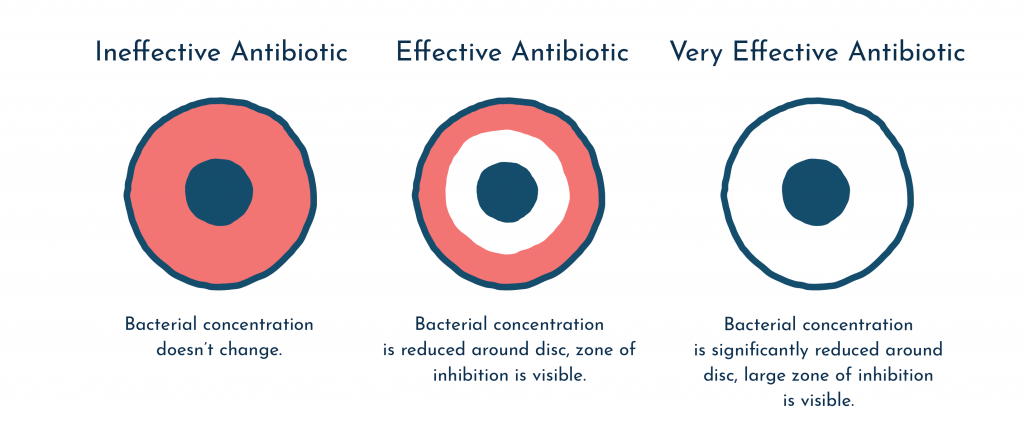 About Pathnostics
Pathnostics is a diagnostic solutions company with a strong focus on developing diagnostic solutions for women's health. Their team aims to redefine what is possible in patient care. Their goal from the beginning has been to replace the flawed standard culture as the go-to diagnostic solution for UTI.
| | |
| --- | --- |
| | "Our single goal is for us to make culture obsolete and to create rational ways to properly manage UTIs. Our mission is to get rid of culture which is a 100+ year old test with many limitations, yet still used in the clinical lab today and it means we're literally guessing for patients daily. Patients deserve better and the time for guessing is over." |
Pathnostics' approach to diagnostics and therapeutic recommendations comes with an emphasis on antibiotic stewardship. By focusing on more accurate treatment options they hope to empower physicians to provide better patient care.
| | |
| --- | --- |
| | "For more than 6 years we've been working on an alternative to culture. Even then, our first generation test picked up more organisms than normally seen in culture. The more we expanded our panel, the more we realized culture was missing. This helps explain why doctors are having so much difficulty diagnosing cases. Our patented Pooled Antibiotic Susceptibility Testing has changed the game in antibiotic recommendations. We can tell you what antibiotics are appropriate for ALL of the organisms that are there instead of a handful of isolated organisms" |
How To Order A Pathnostics UTI Test
At this stage, the Pathnostics Guidance® UTI with Pooled Antibiotic Susceptibility Testing (P-AST) can only be ordered by a physician, physician assistant or nurse practitioner.
We've worked with Pathnostics to prepare some information for you to take directly to your practitioner. If you would like Pathnostics to send you these printable resources by email, just complete the form below. Or keep reading for more information on how to order.
Who Can Order A Pathnostics UTI Test?
Pathnostics Guidance® UTI is suitable for patients with:
Recurrent UTI (male and female)
Interstitial Cystitis
Pyelonephritis
Prostatitis
Pathnostics Guidance® UTI is currently only available in the USA, or for patients who order via a US based practitioner.
For help finding a practitioner that can assist you in ordering a test, get in touch with the Pathnostics team.

Paying For Your Pathnostics Test
The Pathnostics Guidance® UTI tests are covered by Medicare and some insurance plans. After you order your test, you can expect the following:
Pathnostics will submit a claim to your insurer, then work with your insurer to ensure you receive appropriate coverage.
Your insurer will provide you with an Explanation of Benefits (EOB). This EOB is NOT A BILL. Do not make any payments based on the EOB. It is just an explanation.
After the Pathnostics claim is processed by your insurer, you may receive an invoice from Pathnostics for any outstanding balance. This process can take months, so don't expect an invoice immediately. You can get in touch with Pathnostics directly at 714-966-1221 option 2 for more information.
Pathnostics is dedicated to finding solutions that work for you, regardless of your financial situation. Their financial assistance program includes flexible payment options and may reduce patient responsibility for those who qualify. If you have questions, please call one of their friendly billing specialists at 714-966-1221 option 2.
How To Read Pathnostics Antibiotic Susceptibility Testing Results
Pathnostics Guidance® UTI results with Pooled Antibiotic Susceptibility Testing recommendations are sent directly to your clinician.
Unlike many testing options, Pathnostics results report on every organism found, regardless of whether they meet the various concentration thresholds. On the test results, you will still see organisms listed in terms of thresholds. For example:
<10,000
10,000 – 49,999
50,000 – 99,999
≥100,000
These ranges refer to the cells of organisms detected per milliliter of urine sample. The complete range of detection possible is as low as 500 cells/mL, right up to 6,000,000 cells/mL, depending on the organism.
Viral, yeast and STD pathogens will be noted as "detected" or "not detected" only.
Interpreting Pathnostics Pooled Antibiotic Susceptibility Testing Results
Click the image below to view a full sample report, and read on to learn how to interpret it.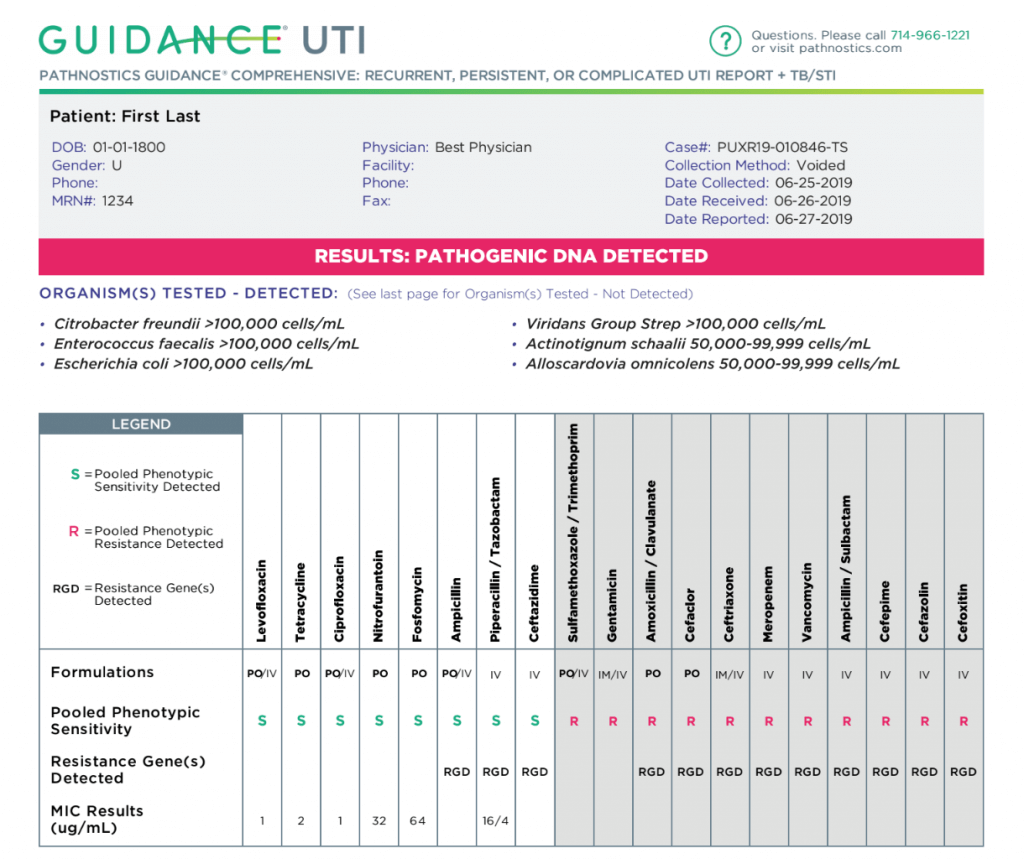 At the top of the first page, you'll see the organism(s) detected in the test, and the concentration of each.
How Antibiotic Resistance Is Reported
Pathnostics Pooled Antibiotic Susceptibility Testing results report susceptibility in three ways:

Sensitive: the antibiotic prevented growth in polymicrobial culture
Resistant: the antibiotic did not prevent growth in polymicrobial culture
RGI: an antibiotic resistance gene was identified
Polymicrobial culture refers back to the section above on pooled antibiotic susceptibility. While 'Sensitive' and 'Resistant' are terms used in other tests, this is the only test that actually looks at sensitivity and resistance of the entire bacterial community as a whole.
Antibiotic Susceptibility Testing Treatment Recommendations
On the first page of Guidance® UTI test results, you'll see the categories above listed as:
S = Antibiotic Sensitivity Detected
R = Antibiotic Resistance Detected
RGD = Antibiotic Resistance Genes Detected
These indicate whether the entire bacterial community as a whole is sensitive or resistant to each antibiotic.
At the bottom of the first page you'll see antibiotic recommendations listed by each individual bacterium, rather than communally.
Which Antibiotics Undergo Antibiotic Susceptibility Testing?
The antibiotics assessed in Guidance® UTI antibiotic susceptibility testing include:
Fosfomycin (PO)
Ciprofloxacin (PO/IV)
Gentamicin (IM/IV)
Levofloxacin (PO)
Meropenem (IV)
Nitrofurantoin (PO)
Piperacillin/Tazobactam (IV)
Sulfamethoxazole/Trimethoprim (PO/IV)
Ampicillin (PO/IV)
Ampicillin/Sulbactam (IV)
Amoxicillin/Clavulanate (PO)
Cefaclor (PO)
Cefazolin (IV)
Cefepime (IV)
Cefoxitin (IV)
Ceftazidime (IV)
Ceftriaxone (IM/IV)
Tetracycline (PO)
Vancomycin (IV)
The list above outlines antibiotics that are physically applied to the bacterial community found in a urine sample. Antibiotic susceptibility testing is conducted in vitro (outside the body) so the impact of the antibiotics on the bacterial community can be directly observed.
Known Antibiotic Resistance Genes Detected
In addition to observing the action of antibiotics on the bacteria in the lab environment, Pathnostics looks for known resistance genes to these antibiotic classes:
Ampicillin
ß-Lactamase
Carbapenem
Macrolide
Methicillin
Quinolinone/Fluoroquinolone
Vancomycin
As we explained in the FAQs above, the presence of a resistance gene does not necessarily mean antibiotic resistance will be demonstrated in reality. This is why antibiotic susceptibility testing, with its physical application of antibiotics, is so important.
Interpreting Antibiotic Recommendations
Along with antibiotic sensitivity information, you'll also see a few other notes in the report:
Formulations: How this antibiotic is delivered, which may be IM (Intramuscular), IV (Intravenous), PO (taken orally) or a combination of options.
MIC Results (ug/mL): This refers to the concentration in micrograms per milliliter (ug/mL) of antibiotic at which the bacterial community becomes susceptible.
Collecting A Urine Sample For Pathnostics Testing
For recurrent UTI, Interstitial Cystitis, complicated UTI and simple cystitis, a 4mL urine sample is required. This should be collected midstream on voiding, or via a catheter.
For prostatitis, a prostate massage prior to urination is required. Once this is complete, a 4mL first stream urine sample should be collected.
Samples that were frozen, have PreservCyt, or were collected with Foley catheter tips will not be accepted for testing.
Urine samples with hematuria (blood in the urine) are perfectly fine as blood does not interfere with the PCR test or antibiotic susceptibility testing. This means it's also fine to collect a urine sample during menstruation.
Urine samples for all tests must be received by Pathnostics within 5 days of collection. A large internal study was conducted by Pathnostics to test timeframes for urine collection, and they saw no significant difference during that 5 day period.
For more detailed urine collection instructions for Guidance® UTI, see the PDF Guide.
Information To Take To Your Doctor
It's always best to work with a practitioner to discuss treatment options and develop a UTI treatment plan. Pathnostics Guidance® UTI with antibiotic susceptibility testing can only be ordered by a clinician.
Because of this, we've worked with Pathnostics to create downloadable resources for you to take directly to your practitioner. If you'd like Pathnostics to send you these printable resources by email, just jump back up to the form above.
As always, if you have any questions or comments, we'd love to hear from you. And if you'd like to sign up for our mailing list, you can do so below.
To get answers to commonly asked questions about chronic and recurrent UTI, visit our FAQ page.