Talking to Your Doctor About Chronic UTI
Whether you're new to the world of persistent lower urinary tract symptoms (LUTS) or you've been dealing with them long enough to consider yourself an expert at-home UTI researcher, you've likely sought out reliable information to share with your doctor.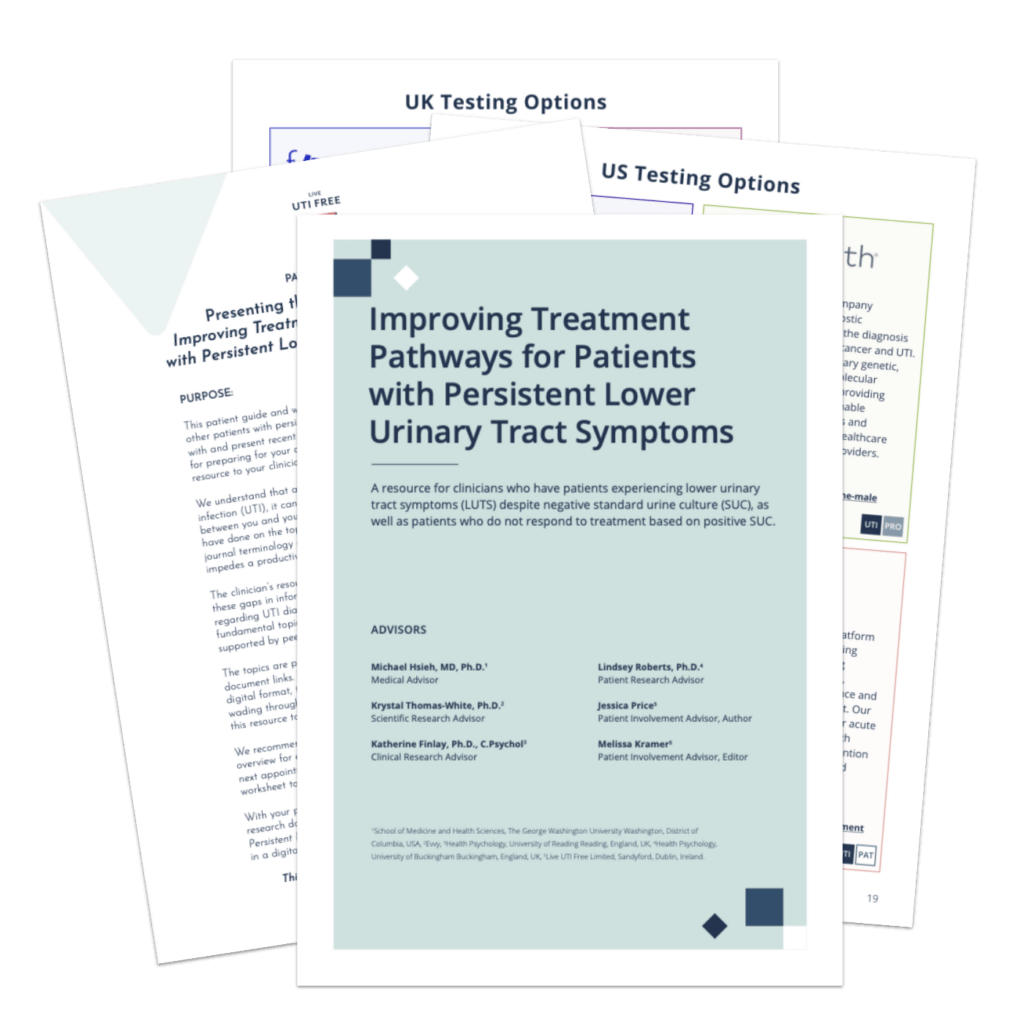 But quality resources around this topic can be difficult to find. This is why we developed materials that provide actionable information and encourage discussion between you and your clinician. Via the tools listed above, you can access a testing directory, evidence-based research to share with your clinician, and a guide to encourage communication.
It's important that any information shared with busy clinicians is based on peer reviewed research and is quick to read.
We've taken all of this into consideration while developing the 'Take to Your Doctor' materials. Written in partnership with our medical and research advisors, we've collected and summarized some of the most impactful studies around UTI and presented them in an easy to navigate format.
How to use the directory and resource
Causes of persistent UTI are rarely straightforward. So one of the exciting additions to the 2023 directory is highlighting testing types available through US and UK laboratories that specialize in enhanced testing methods.
These include tests for UTI, vaginal imbalances, and prostatic abnormalities.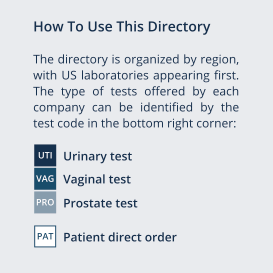 You can get started now or continue reading to learn more about updates to the 2023 directory.
Most exciting for many in our community who have struggled to access tests without a clinician's signature – the addition of labs who provide a direct-to-patient ordering option.
You can quickly identify the labs offering these testing types and services by viewing the codes within each listing.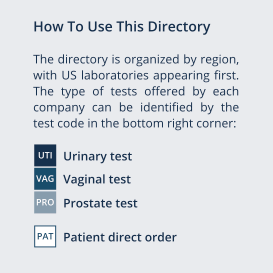 How to Get Started
Thank you for taking an active role in educating others about persistent and difficult to diagnose UTIs and would love to hear about your experience with these resources. You can reach out to us directly.
If you've found this information helpful, you can support further education efforts and other projects by contributing to the work that means the most to you.
To become more actively involved, become a Live UTI Free ambassador.
Excerpts from Improving Treatment Pathways for Patients with Persistent Lower Urinary Tract Symptoms
New for 2023
Understanding the vaginal and urinary microbiome connection
While the microbiomes of the urinary tract and bladder are unique, there is significant overlap between the species and protein functions of the two environments, giving way to the theory that they could be considered one single urogenital microbiome.5
For women with vaginal dysbiosis, there exists an increased risk of developing a UTI compared to women with a Lactobacillus-dominated vaginal microbiome.37
75%, 46%, and 13% of women with bacterial vaginosis, candidiasis, or trichomoniasis respectively, also have a UTI.38
2022
Current Research into the Bladder Microbiome
Bacterial communities have been observed in 80% of samples obtained by transurethral catheter of female participants, with up to 92% of the samples being reported as 'no growth' using SUC.1 A dysbiosis of this healthy urinary microbiome (the urobiome) is correlated with the development of symptoms and urinary disorders.1-3
Participants with urinary symptoms demonstrated a more diverse urobiome with larger quantities of bacteria than asymptomatic controls. The frequency of bacterial detection was between 81% and 86% for symptomatic cohorts compared to only 57% in the control cohort.1,2,4,5
When compared with asymptomatic controls, patients experiencing urgency incontinence had statistically significant differences in their urobiome, with lower levels of Lactobacillus and higher levels of Gardnerella.6,7,8
Evidence of Polymicrobial Infection
The limited capabilities and E. coli-centric bias of standard urine culture (SUC) has been well established. SUC identifies only 24% of non-E. coli uropathogens, and evidence of polymicrobial infection has emerged. Price et al. used Expanded Quantitative Urine Culture (EQUC) to examine polymicrobial infections. 81% of the samples that detected E. coli also contained at least one additional pathogen.11
Vollstedt et al. utilized polymerase chain reaction (PCR). Out of 1,352 specimens that tested positive for bacteria, 56.1% were reported as being polymicrobial. While not all organisms within a sample are necessarily pathogenic, the possibility of a polymicrobial infection should be considered in symptomatic patients.24
When the limitations of SUC are removed, the opportunity for more informed decision making arises. The interactions between organisms present within an individual's urobiome should be considered as they impact patient-reported outcomes.7,12,25
Symptoms of a Persistent UTI
Study participants with urinary urgency incontinence (UUI) have more urobiome diversity than non-UUI controls.4,7 When lower urinary tract symptoms are present, consideration of a patient's unique microbiota and microscopy examination can have a positive impact on treatment outcomes.
A prospective, double-blind study performed by Warren et al. demonstrated that 48% of participants diagnosed with IC who underwent antibiotic treatment for 18 weeks reported either a reduction in urgency and pain, or an overall improvement in symptoms, compared to 24% of those in the placebo group. While further studies are needed, this outcome suggests that patients with urinary symptom complexes may have an undiagnosed UTI.6,27
How Biofilm Contributes to Approximately 80% of Recurrent Infections
Rate of recurrence: After the initial onset of an acute UTI, the risk of future recurrence increases. 19-24% of women will have a recurrent UTI within 6 months of their first infection, and for those patients who have a history of UTIs, 70% will have a recurrence within one year.10,29 Multiple factors previously discussed, such as standard urine culture (SUC) bias and sensitivity report limitations, contribute to increased recurrence rates. However, the presence of biofilm plays a significant role.
Bacterial biofilms: Biofilms are bacterial communities encased in a polysaccharide matrix capable of adhering to and inside surfaces and tissues, expressing antibiotic resistance genes, and greatly influencing the development of chronic infections.28 E. coli specifically is a high biofilm-producing bacterium, responsible for contributing to chronic and recurrent infection, with 62.5% of E. coli infections shown to produce biofilm.6,30,31
Prevalence: When compared with asymptomatic controls, 75% of patients with lower urinary tract symptoms (LUTS) had evidence of IBCs compared to 17% found in controls, indicating the potential role of biofilm in urinary symptoms.6 As explained by Scott et al., "IBCs may have a role not only in the etiology of recurrent UTI but also of chronic LUTS experienced by some women who are given the diagnosis of OAB or IC/BPS."6
Other biofilm-associated infections: Biofilms and IBCs are recognized as being associated with other tissue infections, such as dental infections, respiratory tract infections, endocarditis, prostatitis, and more.28
References