UTI and BV go hand in hand for many people. As do UTI and yeast infection for others. Research has shown that the urinary and vaginal microbiomes are interconnected, so it's no surprise that organisms in one can have an impact on the other.
In this video, Dr. Tim Hlavinka discusses the cycle of UTI and BV or yeast, and how it may be possible to break it. He also covers non-antibiotic UTI prevention methods that may help.
The discussion also delves into urinary antiseptics, such as methenamine, and how to optimize vaginal health.
Watch the video to learn more, or read the full transcript below.
Jump To Section:
Video 6 Transcript: UTI And BV, Yeast Infection And Other Risk Factors
Melissa: Maybe you can talk a little bit about breaking the cycle of a UTI, followed by antibiotics, followed by a yeast infection, followed by a UTI again. People just get stuck in this cycle and don't know how to treat what, and if they can ever break it.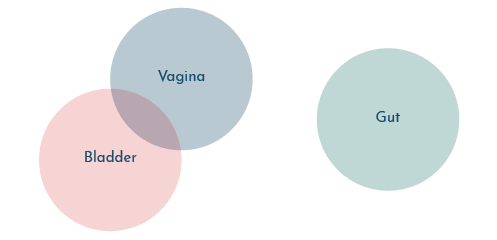 Dr. Hlavinka: That's a very good question and one for whom I find a very frequent source of referrals from all sorts of female health care providers.
And it's because no one really wants to take the trouble to break that cycle. No one wants to take the trouble to just put the brakes on and see where you are. Stop everything and be able to kind of dial back and see what you really need.
And even in a young woman, particularly young women on oral contraceptives. We spoke about that last time – the impact of the anti-estrogenic effects of oral contraceptives. Even in young women on oral contraceptives, many times you may have to do a vaginal estrogen supplementation.
Vaginal Probiotic and pH Balancing Supplements
You may have to do mechanical cleansing. I don't mean that like douching or anything like that. We're totally against that as you know, but we're talking about with some of the supplements and cleanses like probiotic cleanses.
Or refresh and replenish is what it's called here in the U.S. These are these are pH chemical balance, anti-inflammatory and physiologically balanced solutions that can sort of just restore the normal chemical environment to the vagina, which is lost during this circumstance.
And many times all these medications and antibiotics and the yeast overgrowth and bacterial growth create a menopausal state in the vagina. One that's untreated. And I've seen enormous changes, not to mention the inflammatory process, the irritation, the redness, the discharge, the pain, the spasm.
You get there, and you just have to just dial back and treat everything, honestly. And I've done everything from telling any partners to stay away for a long time, to using long-acting local anesthetics that last like eight hours. Just whatever it takes to get the woman comfortable and get some form of physiologic balance restored in her vagina.
And then start back again with MicrogenDX vagina and bladder and swab the genitalia, because you get surprises when you swab the genitalia, that coliform organisms like the ones that inhabit the rectum can live in the external genitalia in some susceptible women. And they are the source of it.
And obviously, important to modify sexual activities and timing and things like that to prevent that. But for me it's a full court press under those circumstances and then be very careful. I do believe in prevention and we'll talk about that I think in a moment.
Can You Stop Antibiotic Treatment for UTI and BV?
Melissa: Do you think it's possible for most people to come off antibiotics, and if so, when is the window for them to do that?
We get this question a lot: Can I stop now or should I wait until I've done this or that?
Dr. Hlavinka: I think that depends. Not trying to be recalcitrant to answer that question, but I think that depends on the the severity of the infection, the frequency with that patient, how refractory they've been in the past, if they're someone who's never been off an antibiotic for three years.
The answer is different than somebody for the last three months we've struggled. But again, typically that normal vaginal and pelvic floor environment is going to be much more difficult to re-establish in those that have been more longer standing. So I would say it's always appropriate once you've treated for an adequate course to stop and see what happens.
But I'd like to follow that with, okay but we're going to do prebiotics vaginally, we're going to do high-dose probiotics intestinally now for at least a week before you come off, we're going to make sure, we're going to do a vaginal pH, we're going to look and see. We'll do a wet prep and make sure you don't already have some form of bacterial overgrowth or fungal overgrowth that's going to cause you to relapse after you stop the antibiotics.
And just be proactive about all these issues, not just wait till a patient comes in miserable and she's been waiting three weeks to get in to see you, and then all bets are off because the inflammatory cycle is just out of control under those circumstances.
How Can We Support Recovery From UTI And BV Or Yeast Infection?
Melissa: Right, definitely. And that's kind of the next question: What can you do to support that recovery? But you're suggesting that you should really start that immediately, not wait until you start to have symptoms again.
Dr. Hlavinka: My patients, forgive me for interrupting, Melissa. My patients get a prescription for high-dose probiotics and specifically how to take them. With the same prescription they get a dietary handout that shows them what to avoid that may cause problems with the antibiotics.
We're very specific about how to take the antibiotics with other food, so you don't have an interaction or diminishment in absorption. How to take them with the timing with the probiotics.
What to do for vaginal health during that time. What you can do to support vaginal health during that time. All those things we send them out at the same time.
Supplements That Can Help Prevent UTI And BV Or Yeast Infection
Melissa: Okay. Are there any supplements that you recommend taking that can help prevent UTI?
Dr. Hlavinka: Specific D-mannose is something we give because D-mannose has been shown to help. And then of course I'm a strong believer in cranberry if you don't have IC. A lot of patients with IC, the acid that you need to get enough cranberry isn't good.
You need to have really good pure cranberry extract with 65 milligrams of pure cranberry extract and that needs to be given three or four times a day. Typically that takes the 200 milligram capsule in order to be able to get that. I just strongly believe in those preventions.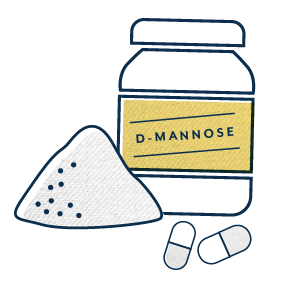 Vaginal Probiotics For UTI, BV And Yeast Infection
Melissa: People are starting to ask a lot of questions about vaginal suppository probiotics. You mentioned prebiotics. How should you use the suppository probiotics and should you always use them at the same time as oral probiotics and for how long?
Dr. Hlavinka: The prebiotics are just basically a different form. They're ones that are basically preparing to recreate the lactic acid environment from lactobacillus in the vagina. And so the prebiotics typically are those that are given either in the suppository or a ovule or something like that.
There are some liquid forms you can give through something that looks like a tampon inserter and those are available too. Those are very helpful. Again if you're irritated down there you don't want to do those things but that actually is the most important thing you can do to make sure that there's no long-term complication antibiotic therapy.
Now does a woman need to do that the first time she gets an infection or if she's one that gets them every three months, no, you can get over that, that's fine, but for most women who have chronic infections some form of preventive maintenance of vaginal health is essential in my opinion.
Should Treatment Be Long Term?
Melissa: Is this a short-term kind of treatment approach or should you be using the prebiotics for a long time?
Dr. Hlavinka: Well, I tell everybody I can about the value of probiotics, and probiotics are absolutely essential for immune system boosting. We've got all those gut bacteria, there's all sorts of interplay between the gut microbiome and our immune system, our liver function.
There's even a sort of, they call it a gut brain connection, between the microbiome and the brain and we've shown that things like depression and things like that, anxiety related, are related to changing the gut microbiome. So having a healthy constituted gut microbiome to me is an essential part of overall health and a simple thing to do, but we docs screw that up all the time by giving people antibiotics to destroy it immediately.
It can take weeks or months to rebuild, so I tell my patients they should be on 60, 80 billion of probiotics, 60 to 80 billion colonies per probiotics daily and then double that when you're on antibiotics. So that's basically what I tell them.
Do Urinary Antiseptics Work?
Melissa: Okay sure. And what about Hiprex? What's your opinion on that and do you ever use it in your practice?
Dr. Hlavinka: I like what we call the urinary antiseptics and the reason I like them is that they have a nifty little way of getting in the bladder and in the urine without causing any interactions in the bloodstream. So they're inert in the bloodstream and in the kidney but in the urinary tract, on the lining layer, they go to town.
And so that's good because they're also sort of a bacterial suppressant. Chemically, they inhibit the growth of the bacteria so it dies and to me that's very important because that keeps you having your full armamentarium of antibiotics. You don't create resistance that way. Now can patients become resistant? Sure. Sure they can, but that's through a different mechanism
If you've found this information helpful, you can support future expert interviews and other projects by contributing to the work that means the most to you. To become more actively involved, become an official Live UTI Free member.
Acknowledgements
The topic of UTI and BV or yeast infection comes up a lot in conversations with our community. Many people describe this cycle of seemingly endless infection, and we hope that future UTI research will better address it. We'd like to thank Dr. Tim Hlavinka for generously sharing his time to answer the questions submitted.
More from our expert video series
Watch the rest of our video series with Dr. Tim Hlavinka, or subscribe to Live UTI Free on YouTube.
To get answers to commonly asked questions about chronic and recurrent UTI, visit our FAQ page. Share your questions in the comments below, or reach out to our team directly.