In 2017, I can honestly say I have a UTI history that dates back 30 years. They were always post-coital, tested positive for bacteria and always responded to a course of antibiotics. However, this changed in 2000, when the first hint of an embedded UTI emerged.
Jump To Section:
The First Sign Of The Chronic UTI To Come
In 2000, after having another UTI, my symptoms did not fully resolve after a course of antibiotics. After many months of continuing symptoms, several different antibiotics and a series of negative tests, I was referred to a urologist and sent off for an ultrasound.
The infection eventually became severe and I was bleeding from the bladder. The next test was positive for E. coli and a 'raging infection' was confirmed by cystoscopy the following day. I was given a three-week course of antibiotics followed by a three-month low-dose, prophylactic antibiotic course of Macrodantin.
"I was told I had probably experienced a low-grade infection that had kept under the testing radar."
My acute symptoms cleared quickly and the remaining symptoms resolved over time.
And So My Chronic, Embedded UTI Began
From 2000 I had my occasional post-coital UTIs that tested positive and always responded to antibiotics. This changed once again in 2008.
After a bad infection, my symptoms did not fully clear with several courses of antibiotics and subsequent tests were negative for bacteria (but showed leukocytes, blood, epithelial cells and 'no significant growth').
After a number of months of continuing symptoms, I was sent back to the urologist. He suggested that sometimes antibiotics have an 'anti-inflammatory effect', which he said explained my improvement while taking them – but there was no longer an active infection. It was concluded I had developed an overactive bladder from the initial infection.
"My symptoms (bladder burning, urethral burning, burning on re-filling, frequency etc) continued, and I gave up on seeing doctors."
I was trialled on an anti-cholinergic (Ditropan) which did not help. My symptoms (bladder burning, urethral burning, burning on re-filling, frequency etc) continued into 2009 and I gave up on seeing doctors.
During this time I discovered d-mannose and took it daily. This helped ease my symptoms and slowly they resolved.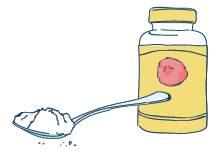 I Refused To Accept A Diagnosis Of Exclusion
Things had returned to normal and I only had the occasional post-coital UTI that tested positive for bacteria and always responded to antibiotics.
Once again, this changed in October 2013. After feeling a UTI developing, as usual I tried to 'flush' the infection through by drinking copious amounts of water, as had been recommended by different doctors over the years.
After seeing my GP with a very diluted urine sample, I despaired when the test came back negative and no further action was required.
My UTI symptoms continued and worsened. After a second negative test I was trialed on a course of antibiotics. After a week of no improvement, I was told to stop the antibiotics. During this period, tests showed raised leukocytes, blood and epithelial cells – and 'no significant growth'.
By now I was suffering intense, rock-like bladder pressure, burning at the top of the bladder as well as at the base and neck, intermittent urethral discomfort and RIF (Right Iliac Fossa) pain.
This was significantly life altering. I was no longer able to work and spent the majority of my time lying flat with a heat pack over my abdomen to help ease some of the discomfort.
"I became tired, withdrawn and stopped socializing and communicating with my family and friends. I started to feel helpless and increasingly sad."
Again, I was referred to a new urologist who sent me for a special urine test and a CT scan. He said I would need a cystoscopy before he could diagnose me with Painful Bladder Syndrome (PBS). He mentioned the 'autoimmune' theory and how this was connected to women when under 'stress.'
I did not accept the offer of the cystoscopy or the PBS diagnosis and started my own research. I was sure my problem was linked to infection, as it had been back in 2000. I was certain I was suffering from an embedded UTI.
Finally, A Practitioner Who Listened And Understood Embedded UTI
In my research I came across the words 'occult bacterial infection' and this struck a chord with me. I was then extraordinarily lucky to come across a very knowledgeable and informative online group and learnt about the work of an English Professor who ran a specialist clinic in London treating complex, recalcitrant urinary infections.
I spent the next couple of years managing my symptoms the best I possibly could and learning everything I could get my hands on about embedded bladder infections.

In 2016 I finally travelled to London to see the Professor. At my appointment he asked for a fresh, undiluted urine sample which he looked at straight away under his microscope. He was looking for signs of infection, in particular white blood cells and epithelial cells.
He then listened closely to my UTI history and asked lots of questions about my symptoms. Unlike all the other doctors I had seen in Australia, he seemed very interested in my symptoms. He also performed a quick, non-invasive physical examination.
"I was diagnosed with a chronic UTI and he explained I'd probably had the infection for some years."
He started me on antibiotic treatment immediately and warned me that it was likely to take some time to completely clear this type of embedded infection.
My Chronic UTI Treatment
Part of managing the treatment is to monitor symptoms, along with urinary white blood cells and epithelial cells. Local clinical labs refused to do this, so I found a trained person who agreed to do this independently.
I was to keep in contact with the Professor by phone and email and he would communicate with my local GP.
I was very lucky that my GP was so supportive and agreed to help with this unconventional approach. It was clear from the beginning she wanted to help me, but she had no experience or understanding of this condition or how to treat it without guidance.
Early into treatment I had a change in antibiotics when we noticed my white blood cells and epithelial cells had suddenly shot up. They soon dropped back when we introduced a new antibiotic.
"In all, it took around eight months before I noticed my symptoms had been gradually improving."
It's common for urinary signals to improve long before your symptoms do. I have been on treatment for my chronic, embedded UTI for 14 months and I'm now 80 percent better.
I experience occasional symptoms that might affect me for a brief period, but from my understanding of the science, I know this happens when infected bladder wall cells shed and the offending bacteria become active. It never lasts very long.
Even though my symptoms have improved enormously, I still have a way to go before I completely eradicate the infection.
If these infections remain undiagnosed and untreated over a long time (which happens because it's such a poorly recognized and misunderstood form of UTI, which current testing cannot identify) they can become deeply embedded into the layers of the bladder wall. This means treatment can take a long time.
Many people are judgemental about taking antibiotics for extended periods, so I choose not to share this with those who don't understand my condition. Sometimes I get comments from a pharmacist or sales assistant, so I fill my prescriptions at different pharmacies so I can avoid this.
On top of having this horrible condition, receiving judgment is extremely frustrating and unfair to deal with. Currently, long-term antibiotic therapy is the only appropriate and available treatment for people like me with a chronic, embedded UTI.
The London clinic receives many international patients, but I know not everyone can travel overseas to see a specialist. It took me over two years of on-going pain and suffering before I made this drastic decision, although now I wish I hadn't waited so long.
The Situation In Australia Needs To Change
We desperately need a specialist in Australia who is educated and trained in diagnosing and treating chronic, embedded UTIs. At the moment, there is just one website, Chronic UTI Australia, that addresses this issue in the region.
This whole experience has been a horrible ordeal. In Australia I was put through various testing, including ultrasounds (as well as several transvaginal scans), CT scans, cystoscopy, several pap smears and a pelvic MRI.
"I was angrily berated by a specialist until I cried at their desk. I was told by one doctor that I research too much, and told by another it was time to focus on my life and not my bladder."
Inadequate test results were given more credibility by doctors than the symptoms I was experiencing — which is not only disheartening, but insulting.
This is what I've learnt from my chronic, embedded UTI ordeal:
Current lab testing is NOT sensitive enough to pick-up embedded infections.
Test results showing levels of leukocytes, blood and epithelial cells indicate INFECTION is present.
It is untrue that infections can only be caused by a single species of a known urinary pathogen. This means reports of 'No Significant Growth', 'Mixed Growth' and counts of epithelial cells DO NOT mean the sample was contaminated and should NOT be ignored.
Doctors and specialists pay far too much attention to lab reports and do not give enough credibility to a patient's symptoms.
Sadly, doctors and specialists, worldwide, are invested in the current status quo and will aggressively defend their positions.
Testing needs to change and GPs need to update their understanding of chronic, embedded UTI so they can help treat their patients.
To get answers to commonly asked questions about chronic and recurrent UTI, visit our FAQ page. Share your questions and comments below, or get in touch with our team.