Dr. Stewart Bundrick is a urologist who specializes in chronic UTI. He posits that a chronic UTI occurs when bacteria becomes embedded deep within the bladder wall. This bacteria may also create a protective biofilm layer that shields it from antibiotics. On occasion, the bacteria release planktonic, or free-floating, cells into the urine that then become embedded at new sites on the bladder wall, perpetuating the infection.
He argues that the short-term antibiotic courses used to treat acute infections are ineffective against chronic infections. This is because antibiotics do not adequately penetrate the bladder wall or break down biofilms. Therefore, the bacteria survive the antibiotic onslaught to then release planktonic cells after the short-term course is complete. Ergo, the infection persists and becomes chronic.
Dr. Bundrick's approach is to keep patients on antibiotics for a year or longer to kill off the planktonic cells each time they are released. The bladder is perpetually shedding and regrowing new layers. It takes between six months and one year for it to complete a cycle of rejuvenation. According to Dr. Bundrick, as long as the bacteria do not continue to burrow into the bladder wall as the new layers grow, they will eventually be eradicated through the long-term antibiotic method. Live UTI Free chatted with Dr. Bundrick about his treatment – which is considered radical by many.
Jump To Section:
Dr. Bundrick's Background With Chronic UTI
Based in Louisiana, Dr. Bundrick began his practice focusing on urologic cancer. However, he switched streams 20 years ago following an experience treating a patient with an unusual and persistent UTI.
When she first presented UTI symptoms and tested positive on a urine culture, he prescribed the standard two-week antibiotic course. Despite her initially feeling better, her symptoms soon returned. Puzzled, he then prescribed a month of antibiotics, and then three months. Yet her infection stubbornly remained.
This was when Dr. Bundrick hypothesized that many – if not most – recurrent UTIs are in fact chronic UTIs that are not properly eradicated. Furthermore, he believes that the constellation of symptoms described as interstitial cystitis (IC) actually reflect undiagnosed chronic UTI.
Therefore, his treatment protocol is to prescribe long-term antibiotics for people who experience persistent or frequent UTI symptoms. He uses urinalysis, urine cultures, and MicroGenDX DNA testing to inform his choice of medication. In absence of positive test results, he is guided by a patient's symptoms.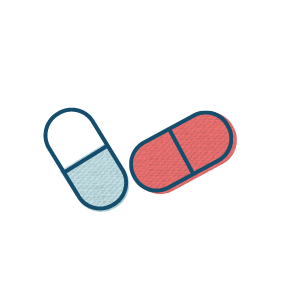 The most common bacteria that Dr. Bundrick encounters are E. coli, Enterococcus, and Klebsiella, and occasionally Pseudomonas and Proteus. When a MicroGenDX test reveals several bacteria, he focuses on those which are gram-negative (save for Enterococcus). He typically prescribes Augmentin, Bactrim, or Trimethoprim, depending on the patient's tolerance, as these are widely effective.
But are all recurrent infections chronic, embedded infections? Not necessarily. Dr. Bundrick looks at how long a person has been symptomatic to differentiate between an acute and a chronic infection.
Read Ally's story, 'An Embedded UTI: More Debilitating Than When it Hurts to Pee' here.
How Symptom History Impacts Treatment
When it comes to evaluation, Dr. Bundrick believes that a patient's history and symptoms are more valuable than their test results. He inquires about frequency, urgency, nocturia, and pain during every visit to track their progress.
Some patients are able to complete their treatment in under one year. Meanwhile, others elect to stay on antibiotics for over a decade out of fear of their symptoms returning. Older patients and those who have been symptomatic for several years are often on medication for a longer period of time and have a lower success rate.
If a patient's symptoms do not begin to alleviate within three months, Dr. Bundrick will switch their antibiotic. If they have been symptom-free for three months, then he encourages them to experiment with stopping their medication completely. However, if their symptoms then return, he resumes treatment.
But is it safe to be on antibiotics for a year or more? According to Dr. Bundrick, most people are surprisingly tolerant. That said, a C. difficile infection and musculoskeletal injury are potential risks. He recommends taking probiotics to mitigate gut flora disruption.
Some patients cannot manage oral antibiotics – for example, if they have experienced repeated C. difficile infections. In these cases, Dr. Bundrick prescribes bladder installations, to be completed after every void.
Unlike intermittent installations, regular installations maintain a constant level of antibiotics in the urine. Another option for those who cannot take oral antibiotics is a daily IV via a permanent PICC line. He also turns to IV treatment when oral antibiotics prove ineffective.
Chronic UTI Flares And Reinfections
Many people with lower urinary tract symptoms are familiar with flares, or a temporary worsening of symptoms. Two common triggers for flare-ups are starting a course of antibiotics and having sex. But on a microbial level, these situations are very different.
Dr. Bundrick explains that antibiotics initiate a mass bacterial die-off wherein the bacteria literally explode. The proteins suddenly released from the dead bacteria trigger an inflammatory response of the immune system.
That response is associated with bladder symptoms like pain and urgency. This means that while beginning a course of antibiotics may make you initially feel worse, it does not mean that the infection is intensifying.
Comparatively, intercourse agitates the bladder wall, which triggers biofilm to release planktonic cells into the urine. For people with a chronic infection, without antibiotics to kill these planktonic cells, the infection can remain unchecked. This means that intercourse can intensify your infection if you do not treat the subsequent flare-up with antibiotics.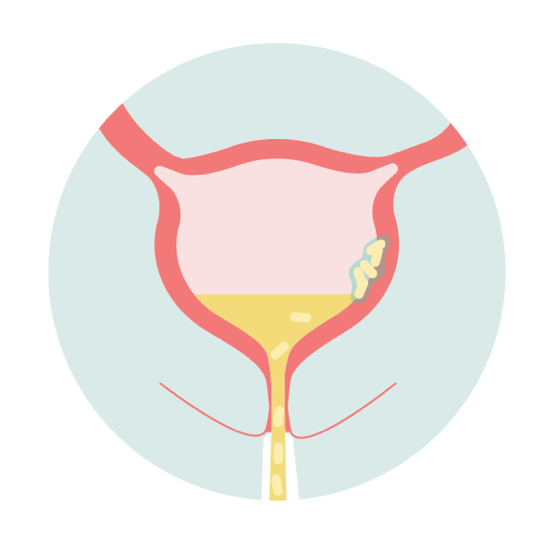 Of course, even once somebody completes a year of antibiotics and is infection and symptom-free, this does not mean they are immune against reinfection. If reinfection does occur, Dr. Bundrick recommends acting swiftly and aggressively with a one-month course of antibiotics. He also encourages all patients to have a MicroGenDx test on-hand for such an event.
In conjunction with antibiotics, he prescribes an anti-fungal to prevent antibiotic-associated yeast infections and non-steroidal anti-inflammatory drugs (e.g. Tylenol or Paracetamol) for pain management.
Dr. Bundrick On Other Impacts Of Chronic UTI
If a person is only symptomatic after intercourse, Dr. Bundrick recommends 'pre-medicating' exclusively before sex as opposed to taking daily prophylactic antibiotics.
For some people, specific foods also aggregate their bladder symptoms, such as tomatoes or strawberries. But unlike sex, these trigger foods are not actually intensifying their infection.
Rather, Dr. Bundrick believes that the chemicals within the foods are simply irritating and inflaming sensitive tissue. This means that you can still indulge in your favorite meals as long as you're willing to endure the subsequent discomfort.
Finally, Dr. Bundrick notes that chronic and recurrent UTI is as much a psychological burden as it is a physical one. He admits that, for reasons yet to be determined, some patients respond well to treatment while others do not.
Those that do not are understandably frustrated and stressed, especially when they see others in seemingly similar situations making a speedier recovery. He emphasizes the emotional care that needs to accompany chronic pain management. Acknowledging that many lack access to mental health resources, he strives to treat his patients for depression when appropriate.
Acknowledgements
As we've researched recurrent and chronic UTI and interviewed experts in the field, it's become increasingly clear that a range of treatment methods exist. While physician methods often overlap, each clinician has developed a unique approach, with many continuing to modify their approach as new research and technology comes to light. As a reminder, Live UTI Free does not endorse a specific approach to treating chronic or recurrent UTI.
We appreciate Dr. Bundrick having shared his experience with us. For guidance on mental health wellbeing while navigating a chronic UTI, view our video series with Dr. Sula Windgassen, a health psychologist.
Subscribe to Live UTI Free on YouTube to watch more expert interviews and to be notified when new videos are released.
To get answers to commonly asked questions about chronic and recurrent UTI, visit our FAQ page. Share your questions in the comments below, or reach out to our team directly.