Many of us have been asked to provide a clean catch urine sample at some point, even if we didn't realize it at the time.
That moment a practitioner wrote your name on a small plastic cup and pointed you in the direction of the restroom? They were hoping for a clean catch urine sample.
But if they just asked for 'a urine sample' and didn't provide much by way of instructions, or an easy-to-use urine collection container, there's a good chance your sample was contaminated. A contaminated sample means less chance of accurate diagnosis and a longer journey to getting answers.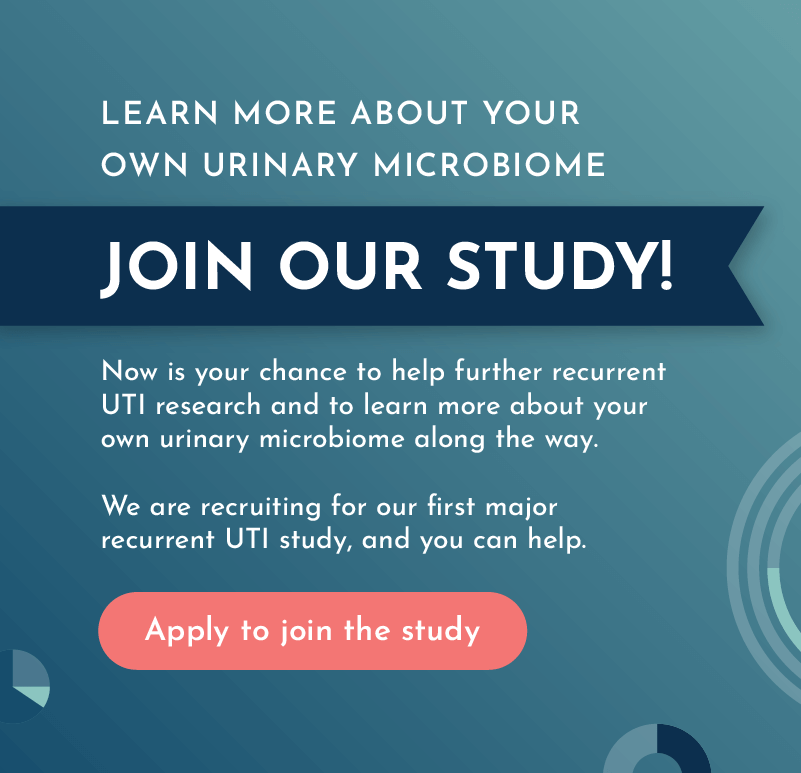 Jump To Section:
Stick with us while we walk you through the ins and outs of collecting a clean catch urine sample and why it's crucial to finding out what's causing your UTI. We'll also explain how an improved urine collection device can help you to collect the clean catch urine urine sample you need to provide.
What Is A Clean Catch Urine Sample?

A clean catch urine sample means to aim to only capture 'uncontaminated' urine. In most cases this refers to urine captured only during the middle time frame of urination. It's sometimes also called a midstream sample.
When you begin urinating, your first flush can carry bacteria and natural flora from the labia along with the urine into your sample. Once this has been washed away, the midstream urine is considered to be cleaner, with less chance of contamination from your genitals and surrounding skin.
Capturing this part of the flow can be elusive and frustrating. But according to the generally accepted urine specimen collection guidelines, this is what you should be aiming for.
Urine Specimen Collection Guidelines
Officially, all urine specimen collection guidelines require a "clean catch" or "midstream" sample. Unofficially, this is tricky, to say the least.
What's often suggested in order to collect that elusive clean catch urine is to try the 'start-stop-start' approach. Which sounds like a first driving lesson and has about the same level of difficulty!
In essence, this requires you to start urinating, stop, put the urine collection container in place, start urinating again to capture the correct amount for the sample – not too little, not too much – stop again so you can remove the container without making a mess…
More often than not, this delicate task happens in the restroom at a doctor's office, and if you're there on account of a UTI, it's quite likely you're already distracted and uncomfortable.
Trying to provide a tidy clean catch urine sample can be an ordeal, and it's common to be unable to control the flow to be this precise while dealing with a UTI. However, this can increase the chances of a contaminated culture result.
What Does A Contaminated Culture Result Mean?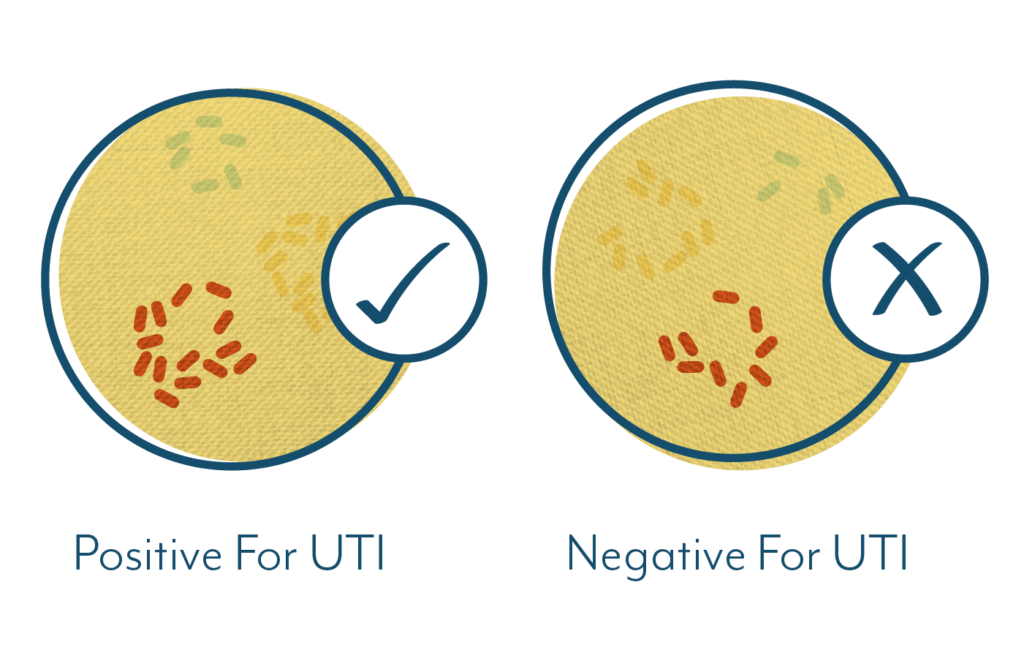 As mentioned above, urine leaving the urethra is likely to collect some extra debris along the way, such as bacteria from the surrounding skin and genitals. This is perfectly normal and unavoidable.
However, if your sample includes bacteria and natural flora from outside the urinary tract's microbiome, the waters can be muddied (so to speak), resulting in a contaminated or mixed growth sample.
This is all too common. Up to 1 in 4 urine samples are considered to be contaminated. This can lead to misdiagnosis, incorrect treatment, or no treatment at all.
You can think about it this way: Urine can be said to be the window to our health, but if the window is covered in dust, it's difficult to see inside. If it's unclear what originated in the bladder, and what has come from the surrounding areas, it can be really tricky to figure out what exactly is causing your symptoms.
While results reporting contamination or mixed growth may very well be due to bacteria from external tissues, we should also point out that results such as these could indicate a polymicrobial infection. That is, a UTI caused by more than one organism.
Getting a clearer picture on what bacteria are causing a health issue is crucial for correct diagnosis and treatment. Unreliable dipsticks and urine cultures can lead to ineffective treatment, in some cases antibiotic overuse and even eventual antibiotic resistance. So it's important we help to create as clear a picture as possible.
With antibiotic resistance on the rise globally and UTI being one of the most common health issues for which antibiotics are prescribed, this is of serious concern.
But this outcome may be avoided, if we can find an easy way to provide a clean catch urine sample.
Which leads us to the urine collection container.
Can A Better Urine Collection Container Provide Better UTI Test Results?
A common urine collection container is a simple cup. (In a doctor's practice, initial urine specimen cups may even be as basic as lidless plastic drinking cups. I'm sure more than one of us have had to walk through a busy practice balancing a cup of pee!)
Besides potential contamination from your body, there are other possible moments of contamination in this collection process.
For example the container may not be sterile, or it may pass through multiple hands. Or there may be a long lag time from when you hand over the sample until the time that it's tested or transferred into another sterile container.
We've made so many advancements in medicine and we're coming to understand how important urine is for analysis and diagnosis of medical conditions. Yet we're still peeing into an open urine sample cup and hoping for the best.
When you think about it more deeply, it seems a bit backwards. Think, for example, about the protocols around collecting blood. All of those steps are in place to ensure it's collected in a way that ensures a reliable sample.
And now think about that urine sample cup, with your name scrawled on it in felt-tip marker, that you carry carefully through the busy waiting room at the doctor's…
Clean Catch Urine Samples For Pregnant Women
Already in the at-risk category, pregnant women don't want to be taking unnecessary or inappropriate antibiotics that do not target the cause of the infection. This is important both for their own sake and for the health of their unborn child.
Needless to say, in this case collecting an accurate clean catch urine sample is crucial. And the Peezy Midstream device is one tool that has been shown to decrease contamination. A decrease in contamination increases the accuracy of a urine test, in comparison to a sample collected according to standard guidelines. This is relevant for diagnosis of UTI (not just in pregnant women) and other health issues too, including STIs.
Why A Clean Catch Urine Sample Is Just The First Step Towards An Accurate UTI Test
Now that you understand the importance of providing an uncontaminated clean catch urine sample, you're one step along the path to accurate diagnosis and the correct treatment.
However, if you're a seasoned UTI-er, you may be familiar with the experience of handing over a urine sample (possibly while doubled over in pain), only to have the test result come back negative. Or, receiving a positive result, but then a negative result soon after, even while your symptoms are still in full force.
We get so many messages from people in this situation and there is a good reason that this happens: The standard UTI tests have been proven inaccurate.
When we say standard tests, we're referring to the rapid dipstick test – done on the spot by your doctor or with an at home UTI test – or the urine culture, for which your sample is sent to a lab and tested within 24-48 hours.
Studies show that UTI test strips may only be reliable about 30% of the time, for reasons which we explain in detail in our article about UTI test methods. Read on for an abridged overview.
The Problem With The Standard UTI Test
There are a number of outdated theories that can lead to inaccurate test results, for example, urine is not sterile (as was believed for a long time). In fact, a healthy bladder carries hundreds of different bacteria. As the UTI test techniques have always assumed urine is sterile, they may consider bacteria that are not an issue, or which are part of the larger puzzle, as being contamination.
Another reason for inaccurate results is that standard urine cultures are effective at detecting uropathogens like E. coli, but they often fail to detect other organisms that may be causing symptoms.
As if that wasn't enough, the pathogens causing your symptoms may not be in your sample. They may be attached to the wall of the bladder in a biofilm, or not in high enough levels to be detectable, even if high enough to cause plenty of discomfort.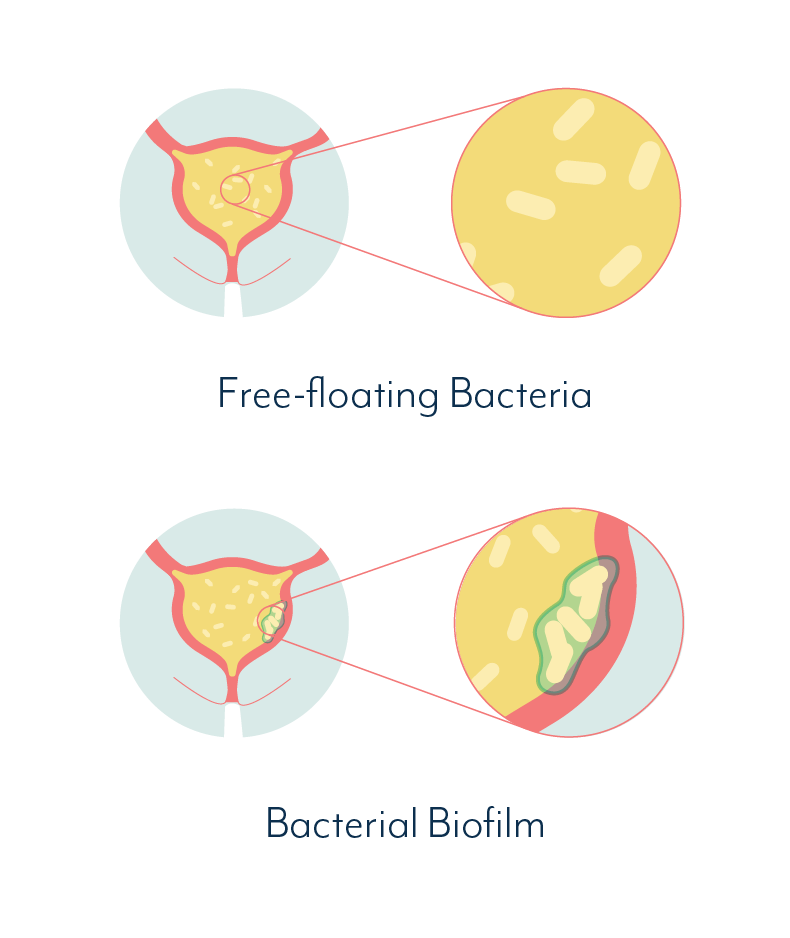 Proven Issues With The Standard Urine Culture
On the topic of detectable levels, the threshold of the concentration of bacteria considered to indicate a UTI was established in the 1950s and related to kidney infections, not UTIs. It hasn't been updated since. It also looks for just a single pathogen, without taking into account the possibility that there might be multiple pathogens causing the infection.
The list goes on:
A standard urine culture does not mimic a bladder environment, so doesn't necessarily grow the problematic organisms.
White blood cells are often ignored.
Epithelial cells are overlooked (these are the delicate tissue that your body may shed as part of its defense against pathogens).
Even just one of the issues above would be enough to raise doubt as to the validity of your test result, let alone all of them combined!
If all of this is starting to feel a bit hopeless, don't despair. There are alternative testing options out there – which we have researched and pulled together an overview for you, so you can cut to the chase and hopefully start on your path to healing much faster.
How To Test For A UTI At Home
If you're in the midst of a UTI, the last thing you might feel like doing is getting yourself to a doctor and squeezing out a urine sample. You might, however, like to complete an at-home UTI test.
There are some benefits to testing at home. Aside from being more comfortable, it's also better to provide a urine sample before you take anything to relieve your symptoms. This way you can collect a sample as soon as symptoms appear and then start your pain relief routine.
Before you race off and order the first at-home UTI test you find online, however, it's a good idea to understand your options. Choosing the right test may mean the difference between healing, or continuing to battle your UTI.
We cover 4 popular options in-depth in our At Home UTI Test article, which we've also summarized below.
1. A rapid dipstick test
This is a strip with colored boxes that indicate levels of factors like pH, protein, sugar, ketones, bilirubin, urobilinogen, nitrites, and red and white blood cells. As mentioned above, studies show that UTI test strips are very unreliable. Additionally, some dipstick tests only have as few as two indicators, so cannot give an accurate picture for what may be a complex issue.
2. A urine culture, where your sample is sent to a lab for testing
For urine culture testing, you collect a clean catch urine sample and send it to the lab. At the lab a small amount of your urine is placed on a plate with agar and incubated at body temperature. If any bacteria or fungi grows within the next 24-48 hours, samples are taken from any significant colonies and analyzed to differentiate the different types present.
Antibiotic treatment is suggested accordingly and results forwarded to your practitioner. Unfortunately, this form of testing is also inaccurate in up to 50% of cases. However, this type of testing may be the best available option for some people. To help with this we've also shared some tips for how to try and minimize common issues with standard urine culture.
3. PCR and 16s technology (based on DNA sequencing)
This type of testing uses DNA sequencing to isolate and identify specific fragments of microbial DNA present in a sample. The science behind it warrants more detail (it is fascinating!) so we've covered this in our article about UTI testing.
Important to note here is that NGS testing has been shown to be significantly more accurate than standard tests. However like all of the tests, it has its pros and cons, so it pays to do thorough research first.
4. Next-generation sequencing and deep shotgun metagenomics (also based on DNA sequencing)
Also based on sequencing the DNA of microbes in human samples, next-generation sequencing (NGS) and deep shotgun metagenomics enables all known organisms (bacteria, fungi, parasites, and viruses) to be identified.
For any of these at-home testing options, you'll need to capture the best urine sample possible. That is, a midstream or clean catch urine sample, for reasons you're by now familiar with. We've provided some handy step-by-step tips for how to go about this in our At Home UTI Test article.
Solving The Puzzle That Is Recurrent UTI
Even when following these steps carefully, it can still be hard to get it right. Using a collection device can help minimize risks of contamination even further. This is particularly true for those who are pregnant, or who have limited mobility or capacity at the time of collecting their sample.
Other things to take into consideration may include the time of day. First thing in the morning when your urine is most concentrated may provide a different result to an evening sample after you've been moving around all day and drinking fluids.
Taking supplements or menstruating may affect your sample (blood may cause contamination). And how quickly you can get your sample into the post or dropped to your doctor or lab can also impact accuracy.
We understand that receiving negative or contaminated urine test results despite ongoing symptoms can be deeply frustrating. However, as with any health issue, you can think of recurrent UTI as a puzzle to be solved. Sometimes it starts with finding the right clinician. If this is something you're considering, get in touch, as we may be able to help.
Hopefully this article has helped to put at least one of the puzzle pieces in place. Next time you're asked to provide a urine sample, you'll know that you're aiming for a clean catch urine specimen, how to achieve it, and why it's crucial in your journey to better health.